​Ukraine 'blackmails' creditors with moratorium on debt repayment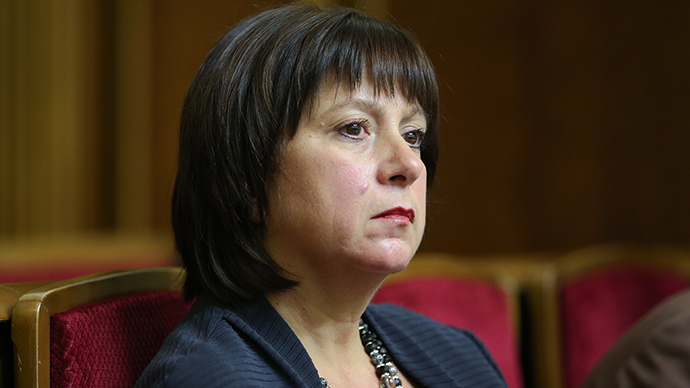 Ukraine could stop repaying sovereign debts to its lenders within weeks, if no deal is struck soon, said US-born Finance Minister Natalie Jaresko, as Kiev struggles to restructure its debt of over $50 billion.
"I can't wait until the end of the summer and do nothing… I don't think we have that much time ... I would have to use other tools to reduce the pressure on the balance of payments, [including - Ed.] a moratorium," Jaresko told reporters Wednesday in Washington.
READ MORE:Ukraine passes bill allowing moratorium on foreign debt payments
Ukraine has declined a debt restructuring offer, suggested in May by a group of investors representing about $9 billion of Ukrainian bonds, including Ukraine's biggest lender Franklin Templeton.
The plan suggested reducing $15.8 billion of Ukrainian debt in the next four years, which is more than the $15.3 billion targeted by Kiev.
The proposal would require the withdrawal of $8 billion from the central bank's foreign exchange reserves, which is illegal by Ukrainian law, said Jaresko.
Creditors must make concessions as the debts are the result of businesses made with the previous 'dictatorship' government, Jaresko said, as creditors refuse to write off Ukraine's debt.
Kiev will be given $17.5 billion as a bailout from the IMF if it manages to save $15.3 billion over 4 years, to keep the debt-to-gross domestic product ratio below 71 percent by 2020, and make sure that the government's financing costs in the future would not exceed 10 percent of GDP.
IMF is now reassessing Ukraine's progress on reforms.
The lender has repeatedly said the bailout deal greatly depends on the progress on debt restructuring, but recently softened its stance.
IMF is ready to pay its next tranche of the bailout to Kiev even if there is no final deal on the debt discussions, said David Lipton, Deputy Managing Director of the IMF Tuesday. Compared to fierce discussion on the Greek bailout deal, Ukraine has shown progress, he added.
READ MORE: Russia to turn to courts if Ukraine fails to pay $3bn debt in time - Siluanov
Ukraine has agreed to increase the cost of gas to consumer by 280 percent, and 66 percent for heating, in an effort to get extra financial aid from the IMF.
In May, Ukraine's President Petro Poroshenko signed a bill granting the government the authority to suspend foreign debt payments. The bill's target is to shield state assets in case of an 'attack' from 'dishonest' lenders.
The total debt of Ukraine is about $50 billion and will reach 93 percent of GDP, according to the National Bank of Ukraine, up from 71 percent of GDP in 2014.
Russia, one of Ukraine's biggest lenders, has no interest in making concessions on Kiev's loan repayments and expects it to repay $3 billion by the end of 2015 for maturing 2013 Eurobonds.
With one of the lowest average salaries in Europe, at about $160 a month, Ukraine is facing inflation of 34.5 percent in 2015.
You can share this story on social media: