Hong Kong-sized plot of Russian land leased to Chinese agrofirm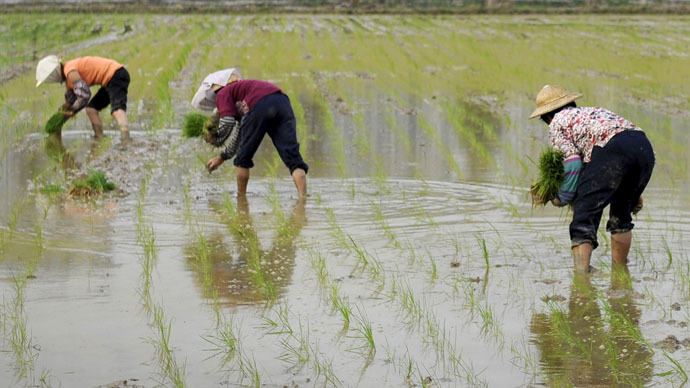 Chinese corporation Zoje Resources Investment has leased a large plot of land in Russia's Transbaikal region for agricultural exploitation. The Chinese corporation is expected to invest estimated $450 million into the project over the next 49 years.
Huae Sinban Company, Zoje Resources' wholly-owned subsidiary from Zhejiang province, has inked an agreement to lease 115,000 hectares (1,150 sq. kilometers), of them 65,000 hectares of wasteland and 50,000 hectares of pastures, in a region close to the border with China and Mongolia in Russia's Transbaikal region, Chinese People's Daily reports.
READ MORE: China offers to build 1st high-speed rail link to Russia
The lease payments will be a nominal 250 rubles (less than $5) per hectare per year, or about 1.409 billion rubles (approximately $26 million) over the 49-year period.
Huae Sinban plans to pursue various activities in Russia, from growing grain, oilseeds, fodder and herb material for pharmacy to organizing poultry, meat and dairy production.
If the first stage of the project in 2015-18 proves to be a success, the Chinese company is expected to eventually raise its total area of land leased in Russia to 200,000 hectares.
The Chinese agro industrial offshoot has reportedly taken on an obligation to invest into development of the agricultural tenancy more than 24 billion rubles (close to $450 million).
The produce will be supplied to both Russian and Chinese markets.
READ MORE: 'No political obstacles' to grant China 50% stake in Russian oil and gas fields – Deputy PM
Huae Sinban's president, Li Demin, is well aware of the risks his company could face in Russia.
Russian legislation sets a 3-year limit to get lands ready for agricultural production, making this condition the biggest risk for Chinese farming in Russia, particularly considering the fact that the lands to be developed by the Chinese have been out of agriculture for about 20-30 years - since the collapse of the Soviet Union - so bringing them back into proper condition will imply hard work from 2,000-3,000 laborers.
With more that 90 percent of its investments being made outside of China, Huae Sinban's policy has a definite foreign expansion vector of and the company is certain of its own resources.
To lease the land in Russia's Transbaikal region, Huae Sinban has won a competition with several other Chinese companies, as well as companies from South Korea, the US and New Zealand.
READ MORE: Europe still a key partner for Russia, but China a priority – Putin
Zoje Resources Investment was founded in 1994. Its main asset is Zoje Sewing Machine company.
In May this year, Russia and China agreed to set up joint $2 billion investment fund to develop agricultural projects in both countries, together with creating a free-trade zone between the two nations' key farming belts.
China is known for seeking to diversify its food supplies, having spent billions of dollars acquiring stake in food-producing and trading companies in countries such as Argentina and Ukraine.
Last year China's state-owned Cofco Corp., spent $1.5 billion to buy a 51 percent stake in Russia's Noble Group Ltd. which owns wheat, corn and barley operations in Russia.
READ MORE: Russia-China ties at highest level in history – Putin
As of now, the agriculture trade between China and Russia is greatly outbalanced towards Moscow, with Chinese companies importing considerable quantities of soybeans, corn and canola from Russia, whereas food exports to Russia are purely symbolic.
China's greatest international undertaking at the moment is development of the Silk Road Economic Belt and the 21st Century Maritime Silk Road initiatives put forward by President Xi Jinping in 2013 to breathe a new life into the two ancient trading routes. These projects have found an active support on the part of the members of the Eurasian Economic Union, currently consisting of Russia, Belarus and Kazakhstan.
READ MORE: Russia, China agree to integrate Eurasian Union, Silk Road, sign deals
Russia's ally Belarus is swiftly expanding technological cooperation with China in another unprecedented bilateral project.
Last year Beijing agreed to invest $5 billion into construction of an entire city combined with industrial park near the Belarusian capital, Minsk. It is planned that the city will have enough housing to accommodate over 155,000 people, making it to the top 10 of largest cities in Belarus. The project has been branded as 'the modern city on the Eurasian continent.'
You can share this story on social media: