Europe still a key partner for Russia, but China a priority – Putin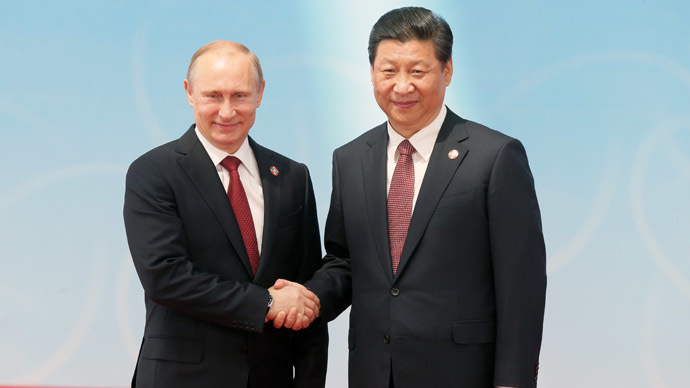 Trade with Russia's largest partner Europe will continue, but cooperation with Asian countries, especially China, are a priority for the Kremlin.
"This is our conscious choice and it wasn't just made yesterday, or the day before. We made it many years ago, on par with the trends of the global economy," Putin said, addressing a panel at VTB Capital's investment forum Russia Calling! on Thursday.
The expanding growth of Asian economies can be used to harness growth elsewhere, the Russian President said.
Russia is not thinking in terms of sanctions or political limitations, but looking ahead to building relationships with BRICS countries, especially China and India, the President stressed. An example of this is the establishment of the BRICS bank in July that was first proposed in 2002.
"These are today's realities and we should adopt a long-term perspective," Putin said.
"We're not going to scale down relations with traditional partners, with Europe," Putin said, noting that Russia-EU trade is $430 billion. Russia's shift towards China is part of an overall pivot toward Asia after Western sanctions endangered certain Russian industries.
Bilateral trade between Russia and China is already nearly $90 billion and is scheduled to hit $200 billion in the next 6 years. Russia has also been turning to China to set up joint oil and gas ventures, including a $400 billion deal with Gazprom in May, which got underway earlier this month.
Rosneft, the world's largest oil company, offered joint partnership in its Vankor oil field in Eastern Siberia to Chinese partners, adding to a $270 billion deal to supply China National Petroleum Group it inked in 2013.
Sanctions have also pushed Russia to seek deeper trade relations in Latin America with the likes of Brazil and Argentina, to fill the gap left by the ban of European agricultural imports, which Russia introduced as a counter to international sanctions in August.
The Ukraine crisis has brought to focus trade disputes and natural gas rows between Russia and the EU, which have a long history of cooperation.
You can share this story on social media: