Ukraine's virtual reverse gas flow illegal without Russian approval – Gazprom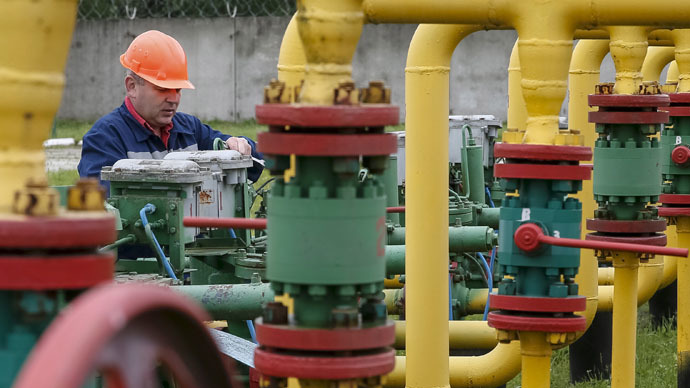 Virtual reverse gas flow from Europe to Ukraine is impossible without Gazprom's participation, says Deputy Chairman Aleksandr Medvedev. Ukraine and Hungary have inked a deal for Kiev to buy Russian gas without a Gazprom contract.
"It's not possible to legalize virtual reverse without Gazprom Export's involvement, what is happening in Europe would be illegal. Moreover, we never received an invitation from anyone to discuss these issues," Medvedev said Tuesday during a company news conference in Moscow.
The physical reverse supply is also illegal without Gazprom's agreement according to Medvedev. He said virtual reverse differs from the physical in that there is no real gas transfer while the amount of money paid is the same.
READ MORE: Ukraine to ditch Russian gas completely – prime minister
Ukraine has been increasing efforts to move away from Russian energy, with Prime Minister Arseny Yatsenyuk saying his country would soon ditch Russian gas completely.
On May 29 Ukraine's gas pipeline operator Ukrtransgaz and Hungarian operator FGSZ signed an interconnection agreement. The agreement with an EU member could be an opportunity for virtual reverse gas flow into Ukraine which can help them reduce its use of Russian natural gas and make its own hub. The country can buy Russian gas from European companies and select it from the pipeline on its territory without paying for transportation. Kiev can thus provide itself with gas without any contract with Russia's Gazprom.
Alternative gas routes
Medvedev has confirmed that Gazprom will not extend its contract with Ukraine after the existing one expires in 2019. He said Russia will transfer the points of gas delivery to ensure stable gas supplies to its European customers. Moscow is ready to supply as much gas as Europe wants and is waiting for proposals from the European side, he said.
READ MORE: Russia to stop gas delivery via Ukraine by 2019, push ahead with Turkish Stream - Miller
Medvedev called the Eastring project that is projected to supply gas from Azerbaijan to Europe a "rosy dream." Growing demand in Azerbaijan and increasing consumption in Turkey are among the key factors that make this plan unrealistic, he said.
"If we carefully calculate the supply and demand balance on the way from Azerbaijan to Europe, it turns out that on the Turkish border there will remain 4-6 billion cubic meters of gas," Aleksandr Medvedev told journalists.
The Eastring East European gas pipeline is supposed to have an annual capacity of 20 billion cubic meters of gas and run from the Slovakia-Ukraine border to the border between Bulgaria and Turkey. Earlier this month, Slovak Prime Minister Robert Fico proposed creating a joint link to the Turkish Stream gas pipeline along with Bulgaria, Romania and Hungary. Slovakia has to look for alternative solutions as it heavily relies on the revenues from transit of Russian gas that now enters the country from Ukraine.