Russia to stop gas delivery via Ukraine by 2019, push ahead with Turkish Stream - Miller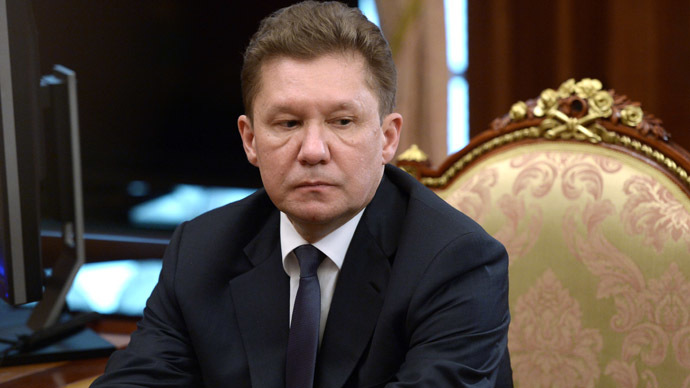 Russia will stop delivering gas to Europe through Ukraine when the current contract expires in 2019 and redirect transit to the Turkish Stream pipeline, says the Gazprom CEO.
The contract with Ukraine will not be renewed after 2019, Aleksey Miller the boss of Russia's Gazprom said on Monday at a conference in Berlin, adding that the main reason behind South Stream's suspension was to keep gas routed through Ukraine.
"It's not true that the South Stream project has been scrapped because of Gazprom's unwillingness to observe the rules of the third energy package and European laws. The only aim was to preserve the status quo in the transit via Ukraine. In reality, there was no other reason to block South Stream," Miller said. He also noted that a single gas price for Gazprom's European customers will lead to a higher price.
Gazprom could easily double the volume of gas delivered to Europe, but there was no indication European consumers required that capacity, thus those volumes can just go to other markets, such as the Asian market, Miller said.
"Our competitive advantage is that we can pause, if we are forced to. And we can keep it long enough," Gazprom's CEO said.
READ MORE: Putin: Gas supplies to Europe could suffer in 3-4 days if Kiev doesn't pay
A third of Russian gas delivered to Europe goes through Ukraine. However, Moscow has repeatedly expressed concerns over the reliability of safe gas transit via Ukraine. Gazprom switched Ukraine to a gas prepayment scheme in June due to Kiev's failure to pay its gas bills. At the beginning of April, Gazprom and Naftogaz of Ukraine signed a new contract for gas deliveries in the second quarter of 2015 with a 25 percent price discount.
READ MORE: Gazprom to build new 63 bcm Black Sea pipeline to Turkey instead of South Stream
In December, Miller announced the construction of the Turkish Stream pipeline to Turkey to replace the South Stream project. Russia scrapped South Stream because of objections from the EU over its construction. The new pipeline will have an annual capacity of 63 billion cubic meters of gas.
Around 14 billion cubic meters of gas will supply Turkey, and the rest pumped to a hub on the Turkish-Greek border for customers in Europe.
Greece and Russia have agreed to cooperate in the Turkish Stream project which might help Greece become one of the main energy distribution centers in Europe.
You can share this story on social media: