Putin holds phone call with Tsipras, agrees to meet in 2 weeks in Russia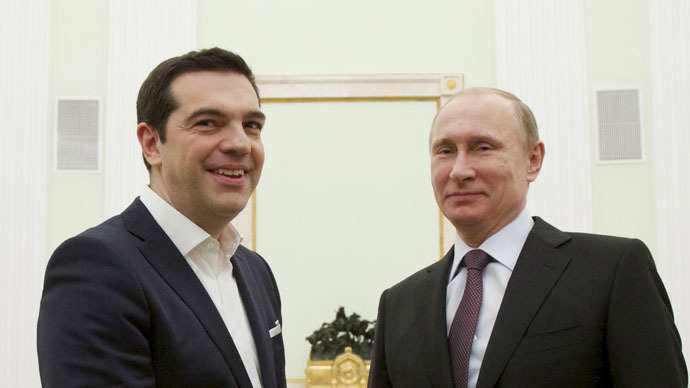 Russian President Vladimir Putin has held a telephone talk with Greek Prime Minister Alexis Tsipras on Friday. They have discussed Russian gas supplies via Turkish Stream and agreed to meet at the St. Petersburg International Economic Forum in mid-June.
"Practical steps were discussed to implement agreements reached during the recent working visit of Alexis Tsipras to Russia, particularly the planned construction of the gas transport infrastructure across the territory of Turkey andGreece," the press service said.
The talks with the Russian president came hours before the Greek prime minister is due to address the country's parliament about the EU proposal.
Acc to Mega TV, #Greece PM Tsipras requested a phone conversation with Putin. Putin said "yes", they will talk today

— Efthimia Efthimiou (@EfiEfthimiou) June 5, 2015
The Russian and Greek leaders have recently stepped up contacts, especially regarding the Turkish Stream gas pipeline. It is planned for the pipeline to transport 47 billion cubic meters of Russian natural gas to the Turkish-Greek border.
READ MORE: Key St. Petersburg economic forum 2015 to see more foreign guests – Russia's Deputy PM
There was speculation earlier that Russia could provide financial help to Greece at the time of Greek Prime Minister Alexis Tsipras's visit to Moscow in April. President Vladimir Putin then denied the rumors, saying that Russia would not directly aid Athens, but could help out through investment projects such as Turkish Stream. Tsipras said that the project would comply with EU and Greek regulations.
IMF payment delayed
Earlier on Friday, media reports said that Greece would delay its €300 million payment to IMF and pay it along with other June repayments totalling €1.6 billion at the end of the month.
READ MORE: Greece puts off €300mn IMF payment till end of June
Greece has been stuck in five months of negotiations with the so-called Troika of international creditors – the IMF, the ECB and the European Commission – as it seeks to get €7.2 billion of new bailout funds unlocked.
So far, there has been no significant progress in the talks as the two parties can't meet halfway over Greece's reform agenda. Greece has been insisting it won't agree to new drastic cuts that pulled its economy into years of recession, while the creditors want to make sure the Athens wouldn't waste the money it is lent.
You can share this story on social media: