Greece puts off €300mn IMF payment till end of June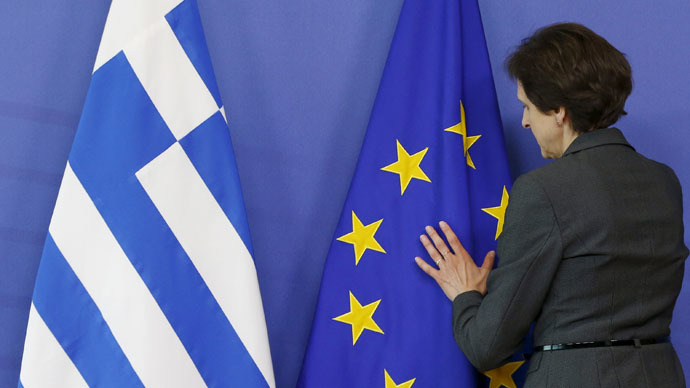 Greece will delay a €300 million payment to IMF until the end of the month to bundle four June payments together. The cash-strapped Athens government is seeking a deal with creditors for €7.2 billion in funds while avoiding more austerity measures.
The IMF said it had been notified by Greece's Syriza government that it would repay the entire €1.6 billion by June 30, the day the deal with the EU and the IMF runs out, The Telegraph reported.
This is the first time a developed country has missed a payment to the IMF. The last country to bundle together payments to the IMF was Zambia in the 1980s.
"In a strange way, we are all breathing a sigh of relief," a Greece cabinet minister was cited as saying to The Telegraph. "We were afraid of a bad deal that would split the party but this is so atrocious it makes life easier. None of us can accept it."
READ MORE: Greece has chance to skip next loan payment – media
"They want to force us into a position where we can't sign," he added.
After the Brussels meeting with the Troika of creditors on Thursday, Greek Prime Minister Alexis Tsipras said there were "points that no one would consider as a basis for discussion."
By those points he meant cuts to pensions and a raise in sales tax for electricity that the country is being pressured to implement.
READ MORE: EU to lend Greece €35bn if it agrees to reforms – Juncker
The Troika (the IMF, the ECB and the European Commission) is demanding public sector cuts, a crackdown on tax evasion and the adoption of what it calls a sustainable budget, before it releases a new loan. Greece's government says that its priority is to pay pensions and salaries and avoid imposing further hardship on its own people. Athens has already made a number of concessions, including the imposition of a special tax on bank transactions to help raise revenue.
Tsipras says that the only "realistic proposals on the table" are the alternative measures put forward by the Greek government earlier this week in a 46-page document. It was later given a full treatment in a new seven-page document authored by the government and entitled "Ending the Greek Crisis."
Both Greece and the IMF are trying to come to a consensus for the release of the last tranche of €7.2 billion aid that Athens' battered economy desperately needs. However, key differences in views still remain, even after five months of negotiations.
EU sources say the Greeks cannot meet a fresh deadline for €750 million next week. Despite some write-offs of Greece's debts in 2012, its public debt currently stays at €320 billion, equivalent to 175 percent of the country's GDP. The maximum acceptable level for Eurozone countries should be not more than 60 percent of GDP, according to the EU's Stability and Growth Pact.
The Athens stock market fell by more than 3 percent in early trading on Friday. Financial shares were among the big fallers, with Piraeus Bank, National Bank of Greece and Eurobank all dropping at least 5 percent. Greek government bonds started losing in value as investors started selling on news of the delayed payment.
You can share this story on social media: