Share of 'high-end oil' to jump to 56% by 2040 – Russian Energy Minister to RT
Published time: 4 Jun, 2015 14:36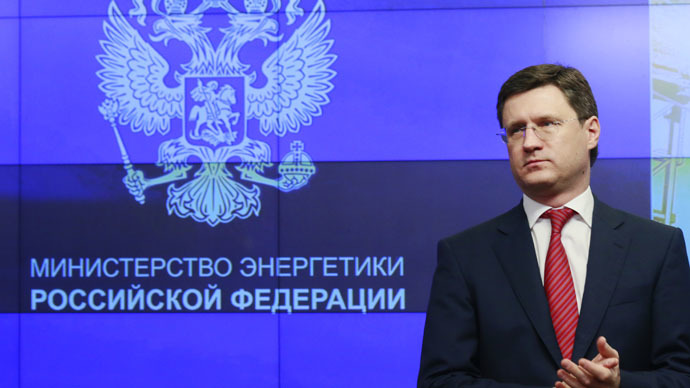 The global share of 'high-end oil' will grow two-and-a-half times by 2040, Russian Energy Minister Aleksandr Novak told RT, adding that shale production could eventually become a real rival to conventional crude.
"By 2040, almost 65 million barrels of high-tech oil will be extracted per day, this includes shelf extraction, shale, deep-water extraction and so on," the minister said in an exclusive interview to RT on Wednesday on the sidelines of the OPEC 6th International Seminar.
In the long-term perspective shale oil will be competitive with the conventional oil and its share will be increasing. Today the share of high-end oil is 23 percent and it will grow to 56 percent in the next 25 years, he added.
Russia is stimulating the extraction of high-end oil as it has huge reserves, including the Bazhenov shale reserves and Achimov shale fields in western Siberia. Russian companies are continuing to work in this area despite Western sanctions, Novak said.
READ MORE: Influence of non-OPEC countries in world market rising – Russia's energy minister
The minister also mentioned the growing volume of extraction in the United States, which has doubled in recent years to 8 million barrels a day. It's a huge surplus which has reduced the exporters' demand, Novak said. This has helped the US have an even greater say in the global oil market, Novak said.
He said that there wasn't any 'price war' in the market and the oil slump was driven by natural supply and demand balance.
Many experts across the globe have blamed a so-called 'price war' for the recent slump in oil prices. They have claimed that OPEC's leading producer, Saudi Arabia, was trying to protect its market share and kill US shale production by keeping prices low.
But earlier Tuesday at the OPEC seminar, Novak told participants that the cartel had no more direct impact on the oil market, while the influence of non-OPEC countries was rising. He outlined the important role of the countries that are not exporters but increase production for their own consumption.
.