US dollar payments from Crimea blocked by Western banks - media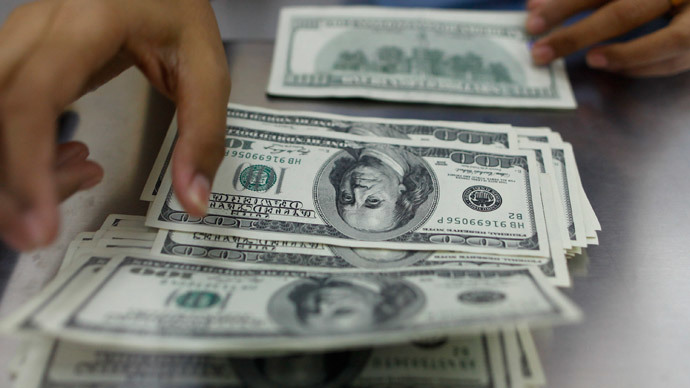 Western banks are reportedly refusing to transfer foreign currency payments from Crimea via the SWIFT transaction system. In December Visa, MasterCard and PayPal stopped providing services to the peninsula.
Transactions by residents and companies registered in Crimea are not being processed and even blocked, the Russian newspaper Vedomosti said on Tuesday, referring to unnamed official of one of the payment systems.
"If a client is registered in Crimea, foreign banks will block the foreign currency payments made by him," another official from one of the Russian payment systems was cited as saying to the newspaper.
Payments in foreign currencies, namely in dollars, from Russia to Crimea are available but similar payments from Crimea to Russia will be blocked. The SWIFT service requires a place of registration for the recipient and sender. The rules require the region of the sender be specified, while the recipient region is not important, according to an employee of one of the Crimean banks.
READ MORE: Sanctioned: Visa, MasterCard suspend servicing Russian banks in Crimea
Ukrainian banks stopped operating in Crimea after the peninsula's reunification with Russia, while the majority of Russian banks didn't start operating fearing Western sanctions. Crimean residents were unable to access their deposits in Ukrainian banks, and a special foundation to protect depositors has been created.
In December Visa and MasterCard suspended servicing Russian banks in Crimea due to the US 'economic embargo' on the peninsula. PayPal, Google and Apple also cut off their products and services from Crimea. Russia's Bank Rossiya and SMP Bank then fell under Western sanctions while Visa and MasterCard also stopped servicing their clients.
The Central Bank of Russia launched in December a new SWIFT-style payment service aiming to move away from Western financial dominance. The system has already started operating and is said to be more convenient for banks as they won't have to reconfigure their software.
You can share this story on social media: