Obama authorizes 'economic embargo' on Russia's Crimea
US President Barack Obama has authorized sanctions against individuals and entities operating in Russia's Crimean peninsula, according to the White House statement.
Obama has issued an executive order that "prohibits the export of goods, technology, or services to Crimea and prohibits the import of goods, technology, or services from Crimea, as well as new investments in Crimea," according to the statement.
The executive order also authorizes the Secretary of the Treasury to impose sanctions on "individuals and entities operating in Crimea."
READ MORE: EU introduces 'discriminatory' sanctions on Russia's Crimea
The move comes just a day after the European Union introduced similar action against the Russian region of Crimea and Sevastopol, accepted into the Russian Federation following the referendum last March.
The United States did not recognize the reunification and has been calling on Russia to "end its occupation and attempted annexation of Crimea."
"We will continue to review and calibrate our sanctions, in close coordination with our international partners, to respond to Russia's actions," Obama's statement reads.
OP-EDGE: Sanctions' goal is regime change, no matter Cuba or Russia
The bill that opened way for further sanctions against Russian economy – dubbed Ukraine Freedom Support Act of 2014 – was signed on Thursday. However Obama was hesitant to introduce any new measures until they are synchronized with European partners.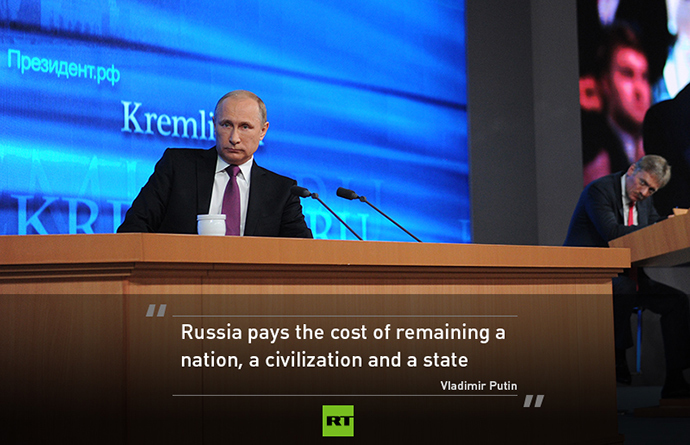 'Can't stuff this bear' & other Putin Q&A quotes
The Russian Foreign ministry warned on Thursday that actions against Crimea would be considered 'politicized discrimination' against Russia and its citizens.
"We would like to remind the EU about our lawful right to adequately respond to its so-called restrictive measures against all Russian individuals and legal entities without exception," the ministry said in a statement, reminding that Crimea is an inalienable part of Russia and warning of an adequate response.
You can share this story on social media: