Sanctioned: Visa, MasterCard suspend servicing Russian banks in Crimea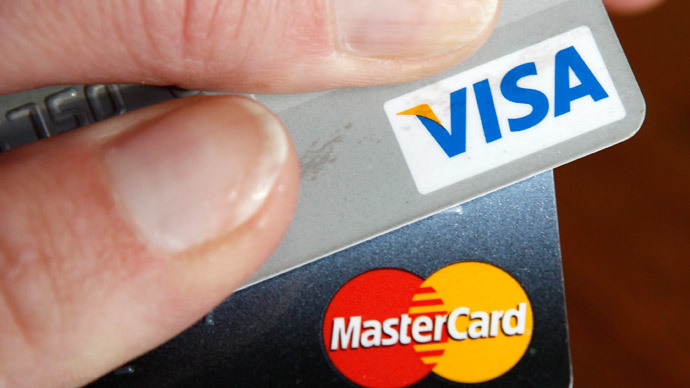 MasterCard and Visa have suspended service for Russian banks in Crimea, saying the decision complies with US sanctions.
"According to the US sanctions imposed against Crimea on December 19, 2014, Visa currently cannot provide services and offer their products in the Crimea. This means that we can no longer issue or accept bank cards in Crimea, and service them in ATMs," the company has confirmed to TASS.
"As for the time period, these limitations will last until the sanctions are lifted from Crimea. At the moment it is unclear when this will happen; it will depend on the development of the political and diplomatic situation. VISA continues to follow closely the events and will provide you with the information as soon as it appears,"a statement to journalists added.
The Central Bank of Russia has promptly responded saying Crimea banks continue to operate as usual, TASS says.
"Russian credit institutions operating in the territory of the Republic of Crimea and the city of Sevastopol work as usual, including the opening of bank accounts, transferring funds, and deposits and withdrawals of funds," said the Central Bank.
As of December 16, about 31 banks were operating in Crimea.
Last week US President Barack Obama authorized individual and sectoral sanctions against Crimea. This included a ban on the export and import of goods, technology, and services, as well as new investment in the peninsula.
The head of the Duma financial markets committee, Natalya Burykina, has said the move isn't new and plastic cards haven't been working in Crimea since March.
"Visa did not provide a card service in Crimea," Burykina said, as cited by RIA Novosti.
She explained the cards in use since March had been issued by Russia's Sberbank, and were part of their inner payment system.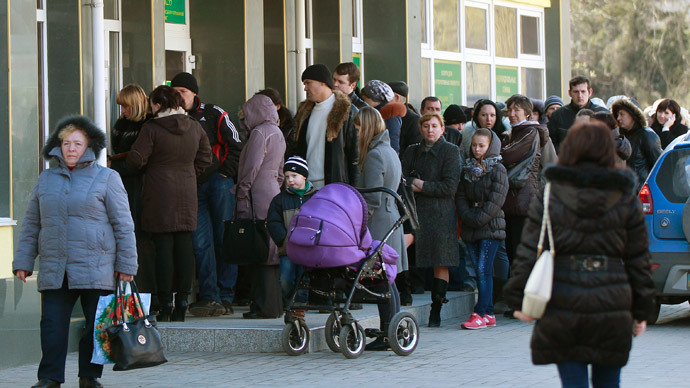 "This happened after Crimea joined Russia," she said, adding that it's the same with MasterCard.
READ MORE: Obama authorizes 'economic embargo' on Russia's Crimea
In March Visa and MasterCard temporarily stopped servicing clients of blacklisted Russian banks, which triggered concerns in Russia over the excessive reliance on the Western financial system.
Since then the Central Bank and economic ministers have accelerated efforts to develop a self-sufficient and independent financial system in Russia.
On Friday, the CBR launched its domestic alternative to the SWIFT global system for banking transactions.
READ MORE: CBR launches SWIFT alternative for domestic payments
In mid-December, Russia's sanctioned Rossiya and SMP banks started testing the country's own payment system.
Kiev cuts electricity, transportation
On Friday, Ukraine also cut off electricity and train services to Crimea. It is the second time in a week that Crimea has been hit by blackouts because, according to the Ukrainian energy ministry, the peninsula failed to curb consumption as required.
"There remains an energy deficit in Ukraine and they [Crimea] exceeded their limit and therefore electricity supplies were switched off. As soon as they return to the limit, they'll be reconnected," an energy ministry spokesman said.
Ukraine's state rail company has also ceased operating its Crimean service for an uncertain time, including both passenger and cargo trains to the Black Sea peninsula.
"In order to ensure the safety of passengers ... [the railway] will cut the route to Crimea off at Novooleksiyvka and Kherson," the company said in a statement.
You can share this story on social media: