Asian market to guide European prices – Gazprom chief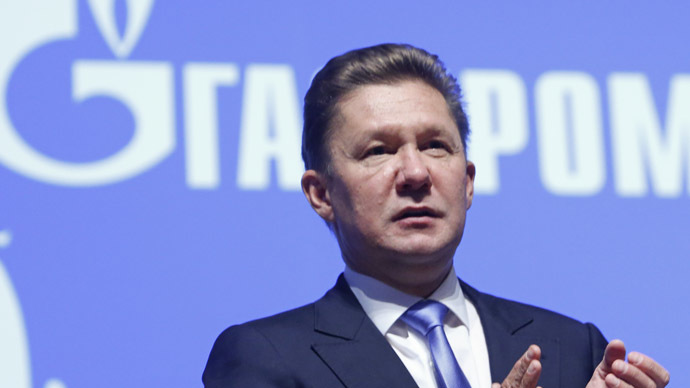 The price of Russian gas in Europe will soon be influenced by the Asian gas market, Gazprom head Aleksey Miller has said.
"Without a doubt, we must understand that a factor in short-term pricing in the European market will be the Asian market as a whole. This is an objective reality, and it is necessary to understand," Miller told the Valdai Discussion Club in Berlin on Monday.
Russia's biggest gas producer has struck a number of deals with Asian customers in the last year, most notably China. In May 2014, the company signed a 30-year deal with China's CNPC valued at $400 billion. Ground was broken on the Power of Siberia pipeline in September.
READ MORE: Russia and China seal historic $400bn gas deal
Last year, China consumed about 170 billion cubic meters of natural gas and expects to consume 420 billion cubic meters per year by 2020.
Gas to Europe 'unchanged'
At present, Europe is the number one destination for Russian gas. In 2014, Gazprom delivered over 146 billion cubic meters to Europe, according to the company.
Growth in the European market, the company's biggest client, will continue, Miller said.
"Russian gas will remain an unchanged element of the European gas market," Miller said. Gazprom has separate pricing and contracts with different EU countries. The European Commission (EC) has been pushing for a so-called 'energy union' which would set a single price for energy supplies for all 29 member states.
Miller bashes 'energy union'
At the conference Miller warned that if the EU insists on such a price monopoly, prices will not be low. For example, Moldova buys gas from Russia at $311 per 1000 cubic meters, whereas Poland pays up to $500 for the same amount.
Europe depends on Russia for a third of its gas supplies, half of which travels via Ukraine. After the cancellation of South Stream, half of Europe's supplies will flow through Ukraine, and the rest through Nord Stream, Yamal and other smaller pipelines.
The Gazprom CEO blamed the failure of the South Stream pipeline, which would have delivered 63 billion cubic of meters to Europe, on European ministers who wanted to maintain gas transit via Ukraine. The whole point of South Stream was to build a direct link to Europe, and take out the instability factor of Ukraine in deliveries of Russian gas.
Russian President Putin announced that the South Stream project was cancelled on December 1, 2014, and that instead, Gazprom would pursue an alternative route via Turkey and Greece.