Chinese discount: Uralkali drops potash prices by 24%
The world's largest producer of potash fertilizer, a farming essential, will lower prices for some Chinese customers to $305 per metric ton. Uralkali says it signals a recovery in the market hit by last year's split of the world's biggest potash cartel.
Uralkali released a statement on its website Monday outlining a plan to sell 700,000 tons of fertilizer ingredient to a consortium of Chinese agrochemical companies, including CNAMPGC, one of the country's largest. The agreement will start from June 30 2014.
Oleg Petrov, the Director of Sales and Marketing at Uralkali, said the agreements with the Chinese companies are an indication of growing demand as well as a market transition as part of the company's "recovery phase".
The Perm region-based company's stock increased 1.5 percent Monday on the news, and was a main gainer boosting the MICEX index by 0.6 percent at trading close.
"Any deal at a price higher than $300 is a success for Uralkali," Konstantin Yuminov, a Moscow-based Raiffeisenbank analyst told Bloomberg News. Prices were $400 before Uralkali unilaterally exited from cartel pricing in July 2013, which sent prices plunging.
Uralkali broke off its consortium pricing with Belarusian potash company Belaruskali in July 2013, instead opting for a new volume-driven growth strategy.
In its annual report, Uralkali predicted global potash demand will increase to 58-60 million tons in 2014, up from 53-53 tons in 2013.
In December, the Russian ambassador to Belarus Alexander Surikov said that Uralkali was "ready" to restore its partnership with its junior Belarusian associate, but there has been no formal reunification.
China is the second largest importer of Russian potash fertilizers, but is ramping up its own efforts to produce potassium chloride and reduce imports. China is also home to the world's largest population, which creates a high demand for farming fertilizers.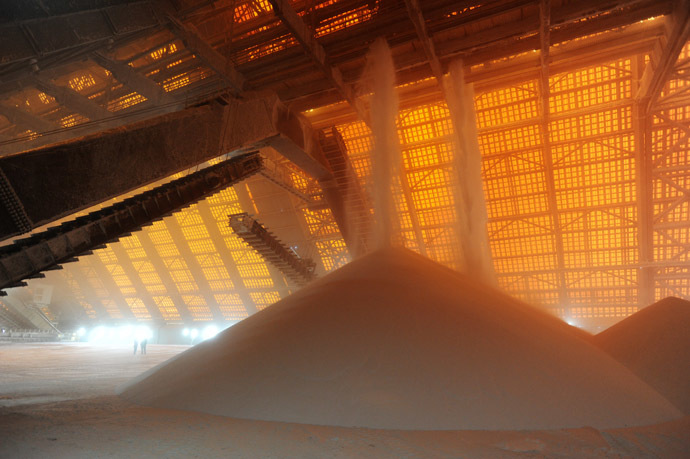 Belarusian fallout
Before the breakup, Uralkali and its Belarusian partner controlled 40 percent of global potash exports and effectively decided prices in the $22 billion market. The dissolution of the cartel instigated a four month "potash war", which resulted in a major shareholder shake-up, an imprisoned CEO, and a souring of Russia-Belarus relations.
Tensions were soothed when Russian billionaire Mikhail Prokhorov's investment arm ONEXIM bought Suleiman Kerimov's 21.75 percent majority share in Uralkali, valued between $4 -5 billion. Prices got a boost earlier in January on a report Uralkali plans to raise prices in Brazil and China.
Prokhorov later purchased a 27 percent stake in the fertilizer company. Uralchem, another Russian fertilizer company, bought a 20 percent share (valued at $2.9 billion), and on December 23 Uralchem's Dmitry Osipov took over from detained Vladislav Baumgertner as CEO of Uralkali.
You can share this story on social media: