​Deutsche Bank next up on Libor chopping block - reports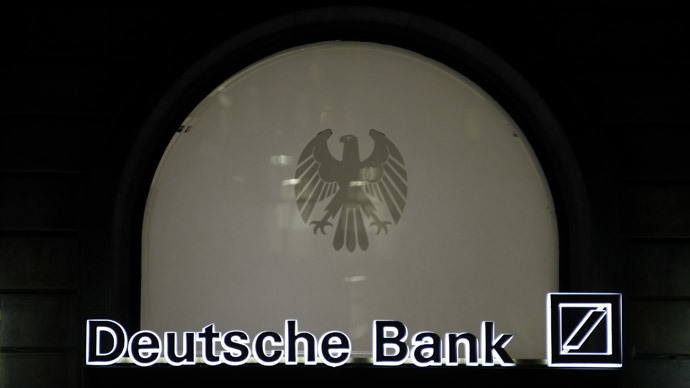 Germany's largest bank, Deutsche Bank, is reportedly under investigation by New York State over its involvement in manipulating the Libor interest rate, in addition to a separate US Justice Department case.
Benjamin Lawsky, superintendent of financial services in New York State, is leading the investigation against Deutsche Bank AG, according to a person familiar with the matter, the Financial Times reported, citing people familiar with the investigation.
Lawsky previously opened cases against the bank over the alleged fixing of foreign exchange rates as well as doing business with countries sanctioned by the US
"We continue to work with the authorities that are reviewing inter-bank offered rates matters," a Deutsche Bank spokeswoman told AFP in an email.
The London Interbank Offered Rate interest rate (Libor) is the benchmark interest rate set by banks that underpins trillions worth of dollars in loans, contracts, and mortgages. The Libor is also used in the US derivatives markets, so if a bank tampers with the rate, it intervenes with US derivatives, punishable under American law.
The Libor scandal dates back to 2005, and in 2013, eight leading world banks were fined a record total of €1.71bn by the European Commission for manipulating the benchmark Libor and Euribor rates.
In 2013, Deutsche Bank agreed to pay a $351 million fine to the European Union over its misconduct, but has yet to pay anything to US authorities.
In 2007, Deutsche Bank trader, Mark Wong, was caught red-handed trying to fix the rate in his favor. RBS trader Tan Chi Min, in an instant message, wrote "It's just amazing how Libor fixing can make you that much money or lose if opposite. It's a cartel now in London," to which Wong replied, ""Must be damn difficult to trade man, especially [if] you [are] not in the loop."
Deutsche Bank is also under pressure after failing the US Federal Reserve's 'stress test' earlier in March, only two out of 31 banks to fail. The test is designed to make sure banks have enough capital to withstand a financial crisis on the scale of 2008. Until it gets a 'pass', the bank will be stopped from raising dividends and buying back stock.
You can share this story on social media: