​Royal Bank of Scotland to cut 80% of investment banking unit - media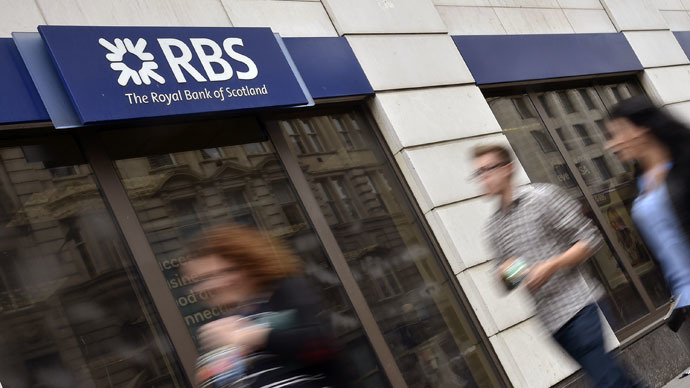 Royal Bank of Scotland (RBS) is to drastically cut its investment banking unit, with media reports suggesting as many as 14,000 out of the department's 18,000 workforce will be laid off by 2019, mainly in Asia and the US.
The investment banking department of RBS currently employs 18,000 people, and will quit 25 of the 38 countries in which it operates, the FT reports referring to people familiar with the matter. Although the sources couldn't provide exact figures, the changes will concern four out of five employees in the investment banking unit. The majority of job cuts are expected in the US and Asia, and will cost between £2.5 billion and £3.5 billion ($4.0-$5.5 billion).
Last week, RBS announced plans to sell or phase out businesses in countries such as China, Indonesia, Malaysia, South Korea, India and Thailand. At the same time RBS will continue trading in the UK, USA and Singapore.
A large number of layoffs are said to be a part of RBS's restructuring plan code-named Project Brown which is aimed at reducing the bank's worldwide presence to its UK roots.
"There will come a time when we need liquidity in this country and we won't have a British broker-dealer so we will have to rely on JPMorgan and that is a problem," said Chirantan Barua, banking analyst at Bernstein to the FT.
A representative of the Royal Bank of Scotland declined to comment on the information.
Another British financial giant Barclays has decided to tighten its financial policy by putting £1.25 billion in reserve for possible fines from the investigation into alleged forex manipulations. It reserved £750 million in the fourth quarter of 2014.
READ MORE: Banks fined record $4.3 bn for corrupting integrity of currency trading
The bank also revealed its involvement in the investigation by the US Department of Justice into potential price fixing in precious metals markets that has caught at least 10 banks red-handed.
READ MORE: Top international banks face US probe for alleged precious metals market fix
However, the bank's pre-tax profits, excluding exceptional costs, rose 12 percent to £5.5 billion, beating analyst expectations. At the same time Barclays made a net loss of £174 million in 2014 against a profit of £540 million in 2013. The overall Barclays bonus fund shrank by more than a fifth.