McDonald's CEO retires after 25yrs with record low sales, food scandals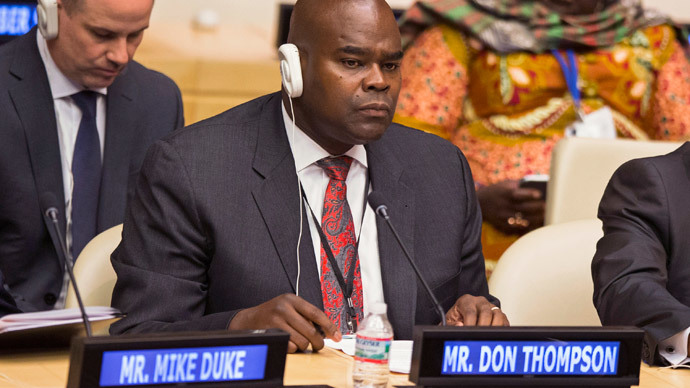 The CEO of world's largest restaurant chain Don Thompson is saying goodbye to McDonald's in the middle of food quality scandals, and its worst sales slump in more than a decade. He first joined the company in 1989.
"It's tough to say goodbye to the 'McFamily', but there is a time and season for everything," Don Thompson said in a statement Thursday, announcing he would retire March 1.
Thompson, 51, has worked at McDonald's for nearly 25 years and has been CEO since 2012. He was the first African-American to head the company since it was founded in 1955, and one of only a few black Fortune 500 CEOs.
His time at the helm was marked by struggles for the burger giant, particularly in its home market. Sales at the US stores stayed flat or declined for 13 months in a row until December, when they rose just 0.4 percent, the Huffington Post reports.
READ MORE: Not lovin' it: McDonald's sales in US plummet
Bottom line is no one is "lovin' it" // McDonald's CEO out as burger chain's struggles worsen http://t.co/4FWNxbxWANpic.twitter.com/3rvKjCCYvS

— Food Tank (@Food_Tank) January 29, 2015
He will be replaced by 47-year old Chief Brand Officer Steve Easterbrook who started at McDonald's in 1993 as a manager in London. Shares in the biggest fast-food chain jumped 3 percent after the announcement.
"I am honored to lead this great brand, and am committed to working with our franchisees, suppliers and employees to drive forward our strategic business priorities to better serve our customers," said Easterbrook.
The new McDonald's chief executive has many challenges and changes to face. Last week McDonald's announced weak business expectations in the first half of 2015 and the intention to cut the company's annual construction budget to its lowest in more than five years.
The company had a very disappointing year, struggling economic hurdles, falling earnings and sales, supplier scandals, wage rallies, intensifying competition and changing attitudes to food.
McDonald's faced a number of food scandals during 2014. Two restaurants sold chicken nuggets containing plastic, a cheeseburger with 5-milimeter metal chip was sold in Japan, and a human tooth was found in French fries, as well as pieces of napkins in juice.
In Russia, the food safety watchdog temporarily closed 12 McDonald's outlets across the country citing sanitary violations; some have been reopened after investigations.
READ MORE: Not again! Japanese McDonald's sells cheeseburger with 'metal chips'
McDonald's is currently attempting to be seen as a more healthy option, and is making menu changes. Customer traffic last year fell 3.6 percent globally, including a 4.1 percent drop in the US, its most important market. Last week the company reported a 21 percent drop in fourth-quarter earnings.
Earlier this month, the fast-food giant announced major changes in an effort to bring back customers and save money. It's going to slow down new restaurant openings in some markets. A number of employees have been notified about layoffs McDonald's said on Wednesday.
You can share this story on social media: