US increases Ukraine support to $2bn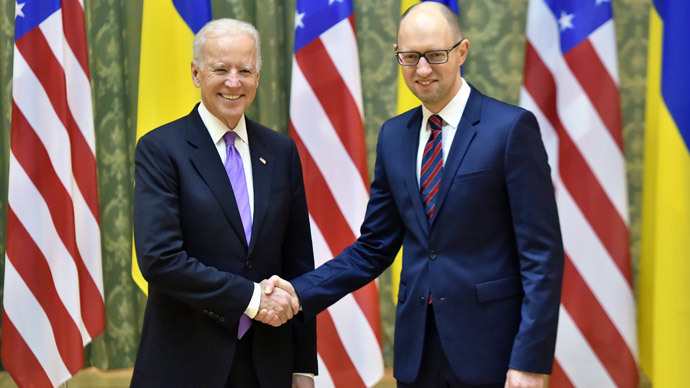 The US Treasury has pledged an additional $1 billion in loan guarantee to Kiev bringing its total support to $2 billion, on condition Ukraine sticks to its reform agenda. The move follows the EU's offer of another $2.1 billion to Kiev last week.
US Vice President Joe Biden told Ukraine's Prime Minister Yatsenyuk about the US administration's offer during a phone conversation on Tuesday.
The US first extended a helping hand to Ukraine in May 2014, when it authorized $1 billion in loan guarantees, as well as $340 million in loan assistance. This money is due to arrive in the first sixth months of 2015. The new guarantee of $1 billion will be dispersed by the end of the year.
READ MORE: US authorizes $1bn to Ukraine in loan guarantees
The latest loan guarantee will be "part of the international effort" to help rebuild Ukraine's ailing economy, which has entered recession and is at risk of default. The government's 2015 budget envisions a 4.3 percent contraction in GDP.
If Ukraine continues to make progress with reforms, the US said it is willing to prove additional guarantees. However, Kiev has been slow to enact those reforms,
The main economic goals in 2015 are to improve central bank reserves that have fallen below $7.5 billion, revive the currency the hryvnia, which lost 85 percent against the dollar in 2015, as well as pay off outstanding arrears, especially in the energy sector. More than 5 percent of the budget has been allocated to defense spending, as the war in the eastern part of the country continues to rage.
The new government in Kiev has already secured a $17 billion aid package from the International Monetary Fund (IMF), but only the first two tranches totaling $4.6 billion has been sent, since the government has been slow to enact economic and political reforms, as well as set a budget. The IMF, which resumes work in Kiev this week, previously warned Ukraine may require extra billions of dollars in aid.
You can share this story on social media: