Russia's Alfa-Bank postpones seizing UTair planes not to disrupt New Year travel
Published time: 24 Dec, 2014 13:44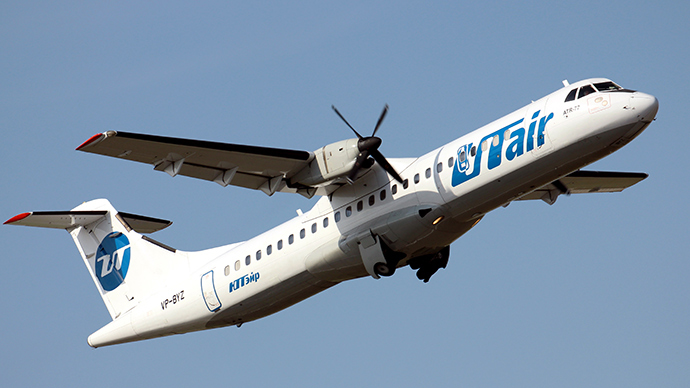 Alfa-Bank has decided to put off until after the New Year holiday its legal action to seize aircraft operated by Russia's third biggest airline UTair.
"Alfa-Bank has decided to suspend the seizure of aircraft and support equipment at the airports used by UTair," said the bank's press service Wednesday.
The press service added that the bank is ready to negotiate settling the debt with the company and its shareholders.
"If our legitimate demands for debt payments are not satisfied, we will continue protecting our clients' interests in court and will seek the execution of all court rulings immediately after the moratorium expires," it added.
According to the Arbitration Court of Moscow UTair owes Alfa-Bank $55 million (3 billion rubles). Alfa-Bank filed nine lawsuits against the carrier in November and December 2014. It says the company isn't paying for its credit and leasing agreements.
READ MORE: Russian bank showers #3 airline UTair with lawsuits amid bankruptcy fears
Deputy Prime Minister Arkady Dvorkovich has told Vedomosti that major Russian airlines can get state guarantees of loans and subsidies on domestic routes if they are in difficulty. He estimates the government can allocate financial support of more than a billion rubles.
On Tuesday, the Russian government said it intends to provide Transaero, the country's second largest airline, with state loan guarantees of up to $165 million (9 billion rubles). The carrier had requested state guarantees of up to $183 million (10 billion rubles).
READ MORE: Russia's #2 airline calls disruption rumors 'provocation'
UTair is Russia's third largest airline in passenger numbers. The company has debt of $3 billion (168 billion rubles). On December 18 UTair announced plans to cut its aircraft fleet from 117 to 71 planes to cover part of the debt.