​Russia's #2 airline calls disruption rumors 'provocation'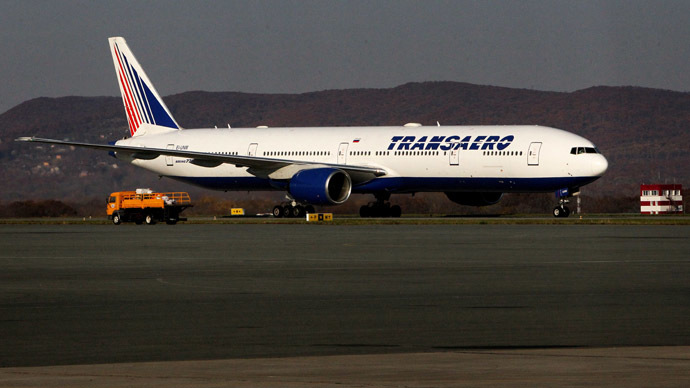 Russian second largest airline Transaero has denied media reports of possible flight cancellations, saying it has enough experience of the past crises, and can perfectly weather a new storm.
Transaero CEO Olga Pleshakova says the company is a victim of false information and accusations in the media that the ruble crisis might force the airline to halt flying.
"We've even got used to the regular provocations that lately appeared in the media. They publish information that is completely untrue," said Pleshakova as quoted by RIA.
She says the company won't plunge into a deep crisis as presented by the media.
"We have overcome the crises of 1998 and 2008. We have great experience of finding a way out. As then, all our actions are aimed at safe and reliable transportation, as well as increasing the availability of air travel which is affected by the current exchange rate," RIA quotes Pleshakova.
She believes the reason for the rumors is the company's attempts to get a syndicate loan from state banks in order to cover a $41 million debt owed to Rosneft and almost $33 million owed to Gazprom-Aero for fuel supplies.
Pleshakova says asking for loans is a common practice, as state support was widely spread between 2008 and 2009, and is currently practiced by a number of major banks and companies, since they serve as a backstop in all areas, especially in a crisis.
The CEO says the carrier had begun a program to improve efficiency in the critical economic conditions. The program was prepared jointly with the McKinsey consulting firm. It is aimed, in particular, at optimizing the cost of fuel and the cost of ground servicing.
Transaero cooperates with major financial institutions in raising funds using various financial instruments. The airline is in talks with Russian and foreign investors to buy a stake in the business, including the largest Chinese bank ICBC.
Russian Deputy Prime Minister Arkady Dvorkovich said Monday airlines experiencing financial difficulties during the economic crisis, such as UTair and Transaero, may count on state loan guarantees.
READ MORE: Russian bank showers #3 airline UTair with lawsuits amid bankruptcy fears
He believes this would be a potent tool since it increases the banks' interest in resolving the issue. Dvorkovich added the government is ready to consider expanding the range of subsidized routes to make sure the flights to these destinations breakeven.