Ruble crisis may spell financial disaster for Europe
All eyes are on the ruble this week after its spectacular crash that sparked fears of a new currency crisis in Russia, and the possibility it could spill over into Europe and put the world economy at risk.
The ruble has lost more than 45 percent against the dollar and euro since the beginning of the 2014, mostly due to falling oil prices and the tightening of Western sanctions.
"We just rescued all those European banks, and they all have huge loans in Russia. If the ruble devalues as it did in recent days, then Russian companies will have trouble paying back dollar and euro debts. From this perspective we will face even bigger problems," Michael Mross, chief editor of MMNews.de, told RT.
READ MORE: Russia crisis leaves banks around the world exposed by billions
Many Russian companies have borrowed money from European and American banks, but now the value of their domestic currency has decreased by more than 50 percent against the dollar, so the cost of the loans has doubled in ruble terms.
The risks of a volatile Russia "will come to the surface very soon. Then we will have a banking crisis triggered by the sanctions and also triggered of course by the ruble devaluation," Mross warned.
The Russian government has debt of about $150 billion it needs to pay off in 2015, much of it foreign held. Sanctions now bar many state-owned Russian credit institutions from borrowing long-term from Western capital markets.
Major retailers like Sweden's IKEA, Germany's Metro, Finland's Stockman want to stay in Russia but have halted sales to recalculate their prices. If they are raised, sales are likely to be dented.
As many as 2000, or one in three German companies doing business with Russia, may have to fire employees or cancel projects as a result of the weakening ruble, warns Volker Treier, the managing director of the Association of German Chambers of Industry and Commerce.
READ MORE: Slumping Russian ruble threatens German economy – top exec
"We would be sawing off the branch we are sitting on if we erected a new wall to Russia's economy," Austrian Chancellor Werner Raymann said.
Apple has increased prices for iPhones in Russia by another 30 percent when it reopened its online store Monday. That was the second time Apple adjusted prices in Russia in less than a month, as it seeks to compensate for the falling ruble. At the end of November, Apple raised prices in Russia by about 25 percent.The tech giant doesn't operate any stores in Russia, but has made clear it is a target market, selling through thousands of licensed retailers. Lost sales mean the company will incur some losses in the market.
Last Thursday, longtime partners Gazprom and Germany's BASF abandoned a long-planned $12 billion energy asset swap, citing growing political tension between Russia and the West.
Automakers take a breather
European carmakers are having trouble steering through the volatile ups and downs of the Russian currency. Volkswagen, Audi, BMW, Jaguar Land Rover all said they would slow down investment in Russia given the predicted downswing. Volkswagen saw sales decrease by 13 percent in November, when the ruble crisis was just beginning to present itself. BMW predicts it could lose €150 million if it doesn't readjust for ruble fluctuations.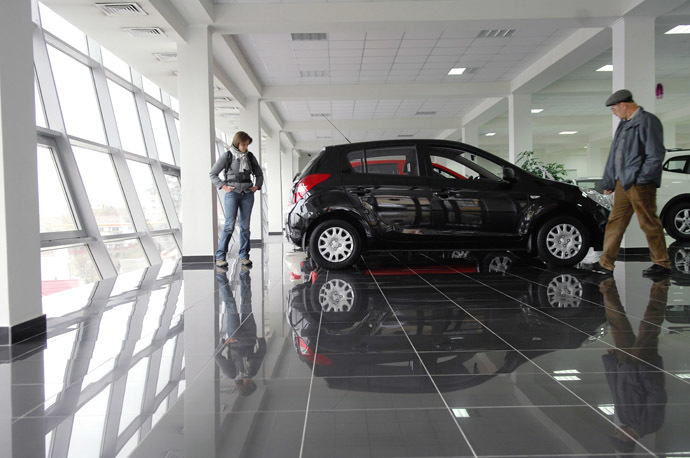 Korean automaker KIA has suspended sales and even stopped shipments of already paid for cars to Russia, according to Kommersant. The paper's sources suggest the company is considering returning money for existing contracts and then reselling the cars at higher prices. KIA itself, however, says that the delay in shipments is temporary and caused by increased demand.
General Motors, America's biggest carmaker with plants in Russia has completely halted sales over the rapidly changing ruble.
"In view of the volatility of ruble exchange rate and with the aim to manage its business risk, GM Russia has decided to temporarily suspend wholesaling of vehicles to its dealers in Russia as of Dec. 16," GM's European Opel division told Reuters.