Speculation in financial markets not a crime, Putin says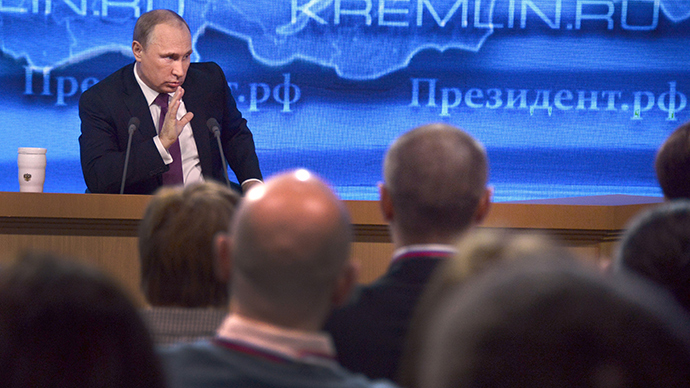 Currency speculation can't be considered a crime, as market speculators just create a favorable situation for themselves, but don't steal, Russia's President Putin has said.
READ MORE:Putin's 2014 Q&A marathon LIVE UPDATES
"They [speculators – Ed.] appear any time there's an opportunity to make money. Not to steel and cheat, but to earn it on the market," he said, specifying there is no such a notion as 'currency speculator'.
Russian authorities and experts agree that speculation and emotion have played a huge part in the ruble turmoil, as the currency has lost more than half of its value.
READ MORE: Putin: Ruble's 'speculative jumps' to stop in near futur
The President also said that neither the government not the Central Bank is planning to force exporters to sell their foreign currency earnings. He said the Ukrainian authorities had tried to introduce a similar regulation and it did not work.
"We can oblige companies, our main exporters of goods which have foreign exchange earnings, to sell them. But tomorrow they will come and buy again, as it was in Kiev and as it happens in other countries. So the next step will be limiting their ability to purchase in the domestic market. But we won't go so far," he said.
The Russian State Duma has said it's ready to prepare a bill criminalizing speculation in the foreign exchange markets. The initiative came from Russian Investigative Committee. The bill would require careful wording as it is very difficult to tell currency speculation from common currency operations, said Nikolay Arefiev, Deputy Chairman of the Duma Committee on Economic Policy and Entrepreneurship.