Ruble rate does not reflect macroeconomic situation, govt to take measures - minister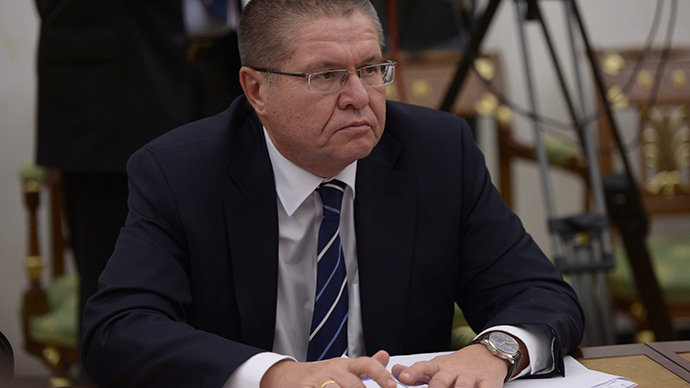 The current ruble exchange rate does not correspond to the macroeconomic situation, Russia's Economic Development Minister Aleksey Ulyukaev said, adding that market players now need a new set of guidelines.
"We believe that, of course, the rate is not consistent with the fundamental macroeconomic situation, and the rate can be seen to break away from the dynamics of the oil market," the minister said after meeting with Russia's Prime Minister Dmitry Medvedev on Tuesday.
The ruble's Tuesday plunge indicates "certain calculations and expectations of market players", said the minister.
The Russian currency lost over 20 percent against hard currencies on Tuesday. At its worst the ruble plummeted to 75 against the US dollar, and traded at almost 100 to the euro on the Moscow exchange. Meanwhile, Brent crude fell below $59 a barrel for the first time since May 2009, losing 4 percent as it hit a low of $58.50. US WTI crude was down 3 percent at $54.21 after plunging to $53.80.
The drop came despite Russia's aggressive hike of the key interest rate to 17 percent late on a Monday night after an emergency meeting.
READ MORE: Slumping ruble should push Russia to 'live in new reality' – Bank chief
Ulyukaev proposed to take steps to boost the amount of foreign currency in the market, while rubles could be further cut. At the same time measures to introduce capital controls were not being considered. What the government did discuss was the regulatory oversight of banks and support of high-quality borrowers.
"It is very important in the current situation to support the banking sector, have guarantees of its smooth operation in the system of prompt settlement and in the system of credit provision to quality borrowers," he said. In this regard the government possible changes in the legislation that would provide for additional capitalization of Russian banks and for supervisory and regulatory oversight, he added.
The minister believes Russia's Central Bank should have raised the key rate earlier. At the same time he said the forecasts for the development of Russian economy are not likely to be significantly revised.
The majority of risks associated with the oil market and the "sanctions regime" have already been included in the forecast made earlier in December, said the minister adding that slight adjustments will still be needed.
Following his statement, the ruble slightly fell after paring gains. However, at 21:10 Moscow time the dollar rose again to 70.35 rubles, while the euro traded at 88.5.
READ MORE: Ruble plummets losing more than 20% in a day, hitting new dollar and euro lows