China to pay £100mn for 80% stake in 3 UK wind farms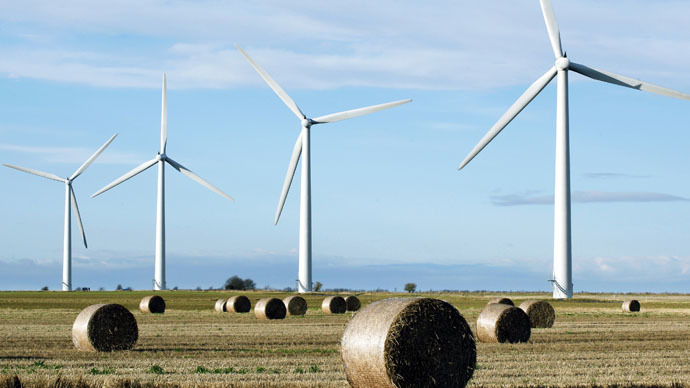 ​China's biggest nuclear energy firm is about to enter the European energy market, and plans to buy a stake in 3 UK wind farms from EDF for £100 million, its first outside of China.
The move by state-owned China General Nuclear Corporation (CGN) will be announced on Monday, FT.com reported Sunday.
China's CCGN will take an 80 percent stake in the wind farms, and EDF will keep 20 percent. EDF will also operate the facilities, and buy the electricity generated. Together, the sites will produce more than 70 megawatts of electricity, enough to power 40,000 homes, FT reports.
China is also negotiating a deal to team up with Electricite de France SA (EDF) to build two nuclear reactors at the Hinkley Point site in southwest England.
In 2013, the two biggest Chinese companies, CNNC and CGN together made a bid to take over 40 percent Britain's Hinkley Point nuclear project- the first UK nuclear deal in 20 years, which will deliver energy to 7 million homes from 2023.
READ MORE: France, China to invest $26bn into next generation of UK nuclear power
EDF is one of Britain's 'big six' power generating companies which regularly come under the spotlight over their pricing policies, with claims they charge customers too much.
The Chinese government is reportedly considering merging its three biggest state-owned nuclear companies into one entity to ramp up overseas reactor sales.
This would make the export market more accessible to buyers outside of China, as it would lower competition.
"The merger between CGN and CNNC is inevitable," Xu Lianyi, a former government official, told Reuters in November.
China and the UK have been increasing cooperation in recent years. China invested £800 million in Manchester airport in 2013.The central banks signed a $32.6 billion (200 billion yuan) 3-year currency swap deal in 2013 to boost trade between China and the UK. Yuan-denominated trading in London has also increased rapidly over the years, and has reached nearly $2 billion.