EU unveils $390bn plan to revive Europe's ailing economy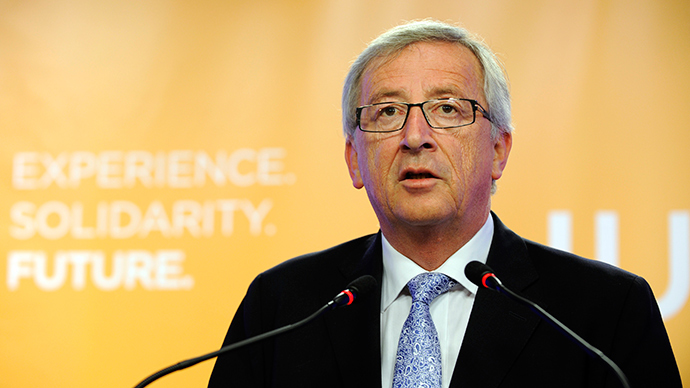 EU Commission President Jean-Claude Juncker has unveiled a $390 billion (€315 billion) investment plan to stave off recession and jumpstart the sluggish European economy.
The European Commission plan will make billions of euros available for investment projects throughout the 28-nation bloc, with a heavy emphasis on financing for infrastructure, small businesses, education, youth employment, and telecoms.
Investment will for the most part be private; Juncker foresees €252 billion in new private money. The EU will provide €21 billion for a special fund to be managed by the European Investment Bank (EIB) which it will allow it to give out €63 billion in loans. Of the €21 billion, the Commission is putting up €8 billion from the EU budget and the EIB €5 billion.
Today we turn a page: We are adding the 3rd point of a virtuous triangle: An ambitious +realistic Investment Plan for Europe #investEU

— Jean-Claude Juncker (@JunckerEU) November 26, 2014
The liquidity drive will look to close the major gap in EU investment, which is currently €370 billion below pre-crisis norms.
"After years of fighting to restore our fiscal credibility and to promote reform, today we are adding the third point of a virtuous triangle: An ambitious, yet realistic 'Investment Plan for Europe'. Europe needs a kick-start and today the Commission is supplying the jump cables," Juncker said in his speech to the parliament Wednesday.
Some hypothetical investment projects Juncker mentioned were new state of the art computers in a Greek classroom, new medical equipment in Italian hospitals, and electric motorways in France.
Growth in the EU has failed to recover after nearly six years of recession, and has left the continent with a huge public debt, high unemployment, and on the verge of deflation.
READ MORE: Eurozone inflation slumps to 5yr low risking triple-dip recession
So far, the European Central Bank has decided not to print money to fight its way out of the financial crisis as the US did with its monetary stimulus program.
"Money will not fall from the sky. We do not have a money printing machine," Juncker said, emphasizing Europe will have to generate real investment, instead of just snapping its fingers and creating more debt.
The plan is based on three major pillars- first to create the new fund, then set up projects with the money, and then get rid of red tape and regulators in order for the projects to be carried out.
Juncker says the money is the "missing part of the puzzle" and the third point in the "virtuous" triangle of euro recovery.