ECB hints at US-style 'easy money' stimulus but doesn't pull switch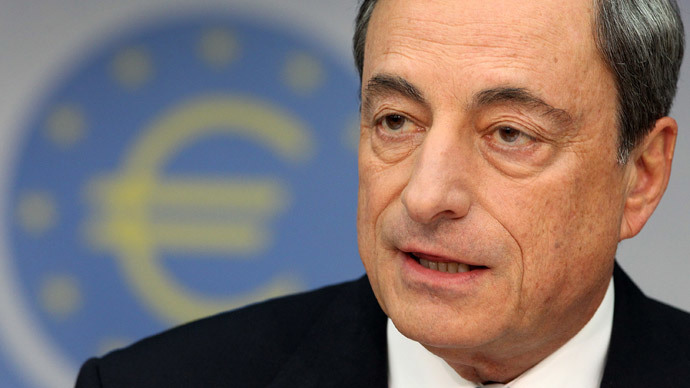 The European Central Bank has agreed to use "unconventional" monetary stimulus to boost eurozone recovery but so far hasn't announced any radical monetary policy change. The bank also kept the benchmark interest rate unchanged at 0.05 percent
"Should it become necessary to further address the risks of low inflation, the governing council is unanimous in the decision in using unconventional measures if needed," European Central Bank President Mario Draghi said at a news conference in Frankfurt on Thursday. The official communique was released before the presser.
Even though Draghi's comments remained dovish, the bank has staff preparing unconventional measures.
Draghi: Governing Council has tasked staff and committees with timely preparation of further measures to be implemented, if needed

— ECB (@ecb) November 6, 2014
Draghi emphasized that massive asset purchases, an unconventional monetary stimulus, will have a "sizeable impact" on the ECB's balance sheet, which is why close attention is needed before acting. The ECB's balance sheet now stands at €2.1 trillion, below the March 2012 peak of €3.1 trillion. The bank expects it to increase in the next couple of months.
Both Japan and the US have used quantitative easing, or large scale asset purchases, to create new money to push economic recovery. The US has just wrapped up its third round of "easy money", which included $85 billion monthly bond purchases.
The ECB is "unanimous" in adopting the measure as a last-ditch effort to push growth in the sluggish eurozone. However, Draghi warns the EU's situation is unique.
"Each injection of liquidity will have a different effect, as we've seen in other experiments," Draghi said. Because Europe never experienced the subprime mortgage crisis like the US, drawing comparisons on monetary policy is "like comparing apples and pears," he said.
The ECB has already begun buying covered bonds under its new program, and will soon start buying ABS (asset backed securities) over the next 2 years.
Key Rate unchanged in deflation battle
The main refinancing rate, the amount banks pay the ECB for credit, was left unchanged at 0.05 percent, still a record low. The decision was taken because "risks surrounding the economic outlook for the euro area continue to be on the downside."
The bank is worried that heightened geopolitical risks could dampen confidence, in particular, private investment. Inflation in the eurozone is dangerously low, currently at 0.4 percent across the area, less than half the 2 percent target of the bank.
Annual ECB inflation is expected to remain low in the coming months before rising gradually in 2015 and 2016, Draghi said.
After the announcement, the euro fell below $1.24 against the US dollar, a 26-month low.
In 2013 the eurozone came out from recession after 5 years of financial havoc, but recent poor economic figures show the continent could again be heading towards recession.
You can share this story on social media: