Russia and Saudi Arabia against 'politicized' oil prices – Lavrov
Moscow and Riyadh both want to see oil prices react to market forces, and not to geopolitical muscle flexing, Russian Foreign Minister Sergey Lavrov, said Friday.
"Saudi Arabia and Russia believe that pricing should be market-oriented and let supply and demand play the decisive role. We and our Saudi partners are against shifting markets as result of political or geopolitical schemes," Lavrov said at a news conference after holding talks with the Saudi Foreign Minister Prince Saud al-Faisal in Moscow.
The two agreed to continue cooperation on energy and issues related to the oil market, Lavrov said.
The foreign minister's comments come ahead of the OPEC meeting on November 27 in Vienna, Austria, which may see a cut in production to boost oil prices.
Brent crude rose by 2.03 percent to $80.94 on Friday, the first time it has crossed the $80 threshold since November 13.
By 14:00 MSK Brent crude was up 1.6% to $80.60 per barrel, according to the ICE trading system. Since June, the price of a barrel of Brent crude has fallen by about 30 percent.
READ MORE: Russian ruble continues recovery, as oil back to $80
Overall, oil prices have dropped drastically since Brent topped out at $115 per barrel in June. By mid-October prices had sunk to $84, and on November 13 hit a new nadir at $77.50 per barrel.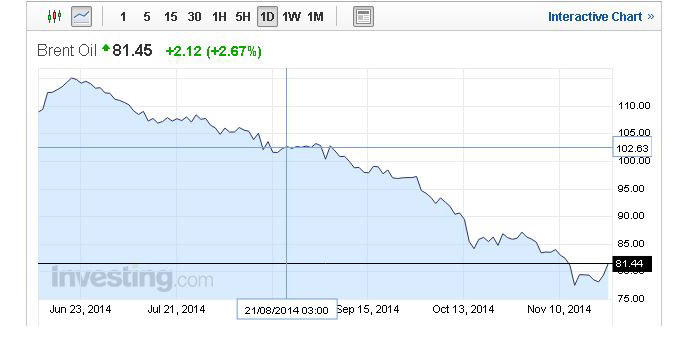 READ MORE: Brent tumbles below $80 threshold as OPEC surplus continues
Venezuelan Foreign Minister Rafael Ramirez says it is pretty clear there are attempts to damage Russia, Iran, and other oil producing countries by manipulating oil prices.
"It is a particular geopolitical position of some powerful political players in the world. But the common interest of all oil producing countries is to have a fair price. We believe its $100 per barrel," Ramirez said in Caracas Friday.
Many of the countries in OPEC require a price above $75 per barrel to keep their national budgets balanced.
If oil prices remain below $80 per barrel, oil producing countries will continue to feel the economic squeeze, since for many selling oil under $80 per barrel is unprofitable
Oil exporting countries base their budgets on oil prices. Iran needs a price at $140 per barrel to balance its budget, whereas Saudi Arabia needs a price of $90.70 per barrel, Qatar $77.60 per barrel, and the United Arab Emirates $73.30 per barrel.
Not a 'price war'
Saudi Arabia is one of the leading voices among the 12 OPEC members, and has temporarily stopped intervening in the oil market as its economy can withstand lower prices.
Much speculation has been tossed around that Saudi Arabia is intentionally lowering prices to squeeze out US dominance in the crude market, which Oil Minister Ali al-Naimi dismisses as nonsense.
Russia is not an OPEC member and will not have an official presence at Thursday's talks, but Rosneft CEO Igor Sechin will meet with partners from Venezuela on Tuesday, and Russia's Energy Minister Aleksandr Novak will also be present.
Tumbling oil prices have hit the Russian currency hard; in November the ruble lost nearly 45 percent of its value before recovering slightly. On Friday at 15:30MSK the ruble improved to 45.52 against the dollar, and 56.59 against the euro.
On November 7, the ruble hit its record low of 60 rubles to the euro, and grazed just above 48 against the dollar. Soon after the Central Bank announced it was abolishing automatic currency interventions, to protect the ruble from heavy speculation.
You can share this story on social media: