Ukraine's coal reserves 'unprecedented' low, not enough for another month - Deputy Energy Minister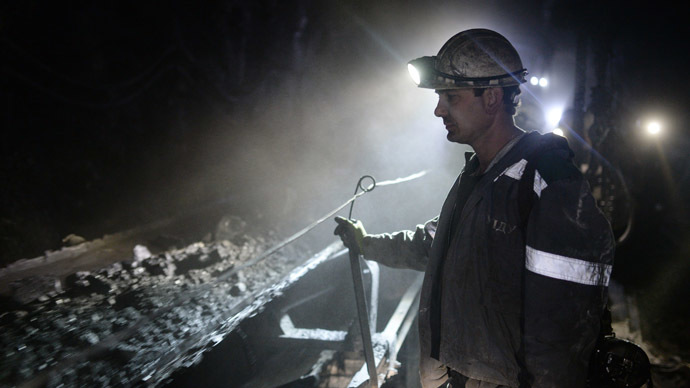 Two out of ten coal-fired power plants in Ukraine only have enough stock for a few days, as the key coal mines supplying the plants are located in Donbass where Kiev and self-defense forces are fighting, says Ukraine's Deputy Energy Minister Yury Zyukov.
In 2012 and 2013 Ukraine extracted about 85 million tons of coal, of which 40 billion tons were used for domestically, Zyukov told Glavkom magazine, adding that previously Ukraine even exported coal.
"Situations as this one have never happened in the history of an independent Ukraine, we have never had such precedents."
"Do you know that Zmiev TPP has 30 thousand tons of coal reserves and the Tripol TPP has 50 thousand? That is literally enough for just for a few days,"Zyukov said."That is why we needed coal from South Africa - we have no reserves."
READ MORE: Ukraine out in the cold this winter without coal from Russia, Donbass – Energy Minister
Zyukov said ordinarily a coal-fired power plant has a stockpile of at least 3 million tons of coal, which is about a month's supply.
The Ukrainian government had agreed to buy a million tons of coal from South Africa through Britain's Steel Mont Trading. However, after the Ukrainian Prosecutor General's Office filed a case of embezzlement due to the high cost of the coal, the trading company cut the order to 500,000 tons concerned about its market reputation.
Zyukov said Ukraine has three options for purchasing coal. The first is to buy it from Ukrainian state-owned enterprises. It could also buy coal through open bidding from exporters, or finally import it from Russia.
"If gas is purchased in Russia, than we can by coal in Russia as well. Again, that's where we import nuclear fuel from. We are tied up in this system," he said.
To a large extent Zyukov's game plan echoed the warning of Ukraine's Energy Minister Yuri Prodan who said last week the country had no other option to live through the winter than to buy coal from Russia or the self-proclaimed Donetsk People's Republic. However, Donetsk authorities have already said they would not supply coal to Kiev "until it ends hostilities."
According to Zyukov, Ukraine produced 85 million tons of coal in 2012-2013. Heating consumed about 40 million tons. Zyukov has called the current situation unprecedented.