Kiev ready to buy coal from self-proclaimed republics in Donbass – official
Kiev is ready to buy coal at cost price from the self-proclaimed Donetsk and Lugansk People's Republics, said Ukraine's first deputy energy minister, stressing that it will be cheaper than buying it from abroad.
As freezing temperatures come to Ukraine, First Deputy Energy Minister of Ukraine Yury Zyukov said that the Kiev government is ready to buy some 2.1 million tons of coal, currently stored at warehouses on the territories controlled by independence supporters,RIA Novosti reported.
"If we have a cost price of 650 hryvnia per ton (about $65) without VAT, the price will be raised to 1,100 hryvnia per ton (about $85), then the balance will be at the price of buying this coal," he said, adding that "it will still be cheaper than buying it from abroad the way we do now."

Zyukov elaborated that he is in talks with the management of the mines who are negotiating with the authorities of the self-proclaimed republics.

He pointed out that the money paid for the coal "should go under control" and given directly to the miners "for us to understand that this money will be used for paying salaries and above all for paying the energy bills and solving the social issues in mining towns."

Furthermore, Zyukov said that to speed up the process of transferring the fuel from the eastern war-torn parts of Ukraine, part of the railway communication system has already been restored.

Zyukov added that coal mined in the Donbass region is also important, as the Ukrainian coal-fired power stations can operate without crashes only with this specific kind of coal.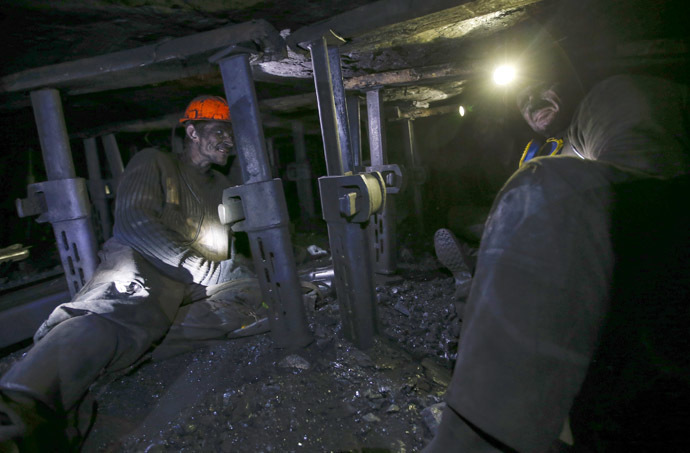 "Ukraine's energy sector is built the way that 50 percent of our blocks operate on gas coals and [another] 50 percent – on low-volatile coals. All these blocks – they were built not for the coals of South Africa or Kuzbas, in terms of chemical composition; they were built exactly for the Donbass coals," Zyukov said.

Most of Ukraine is experiencing an acute shortage of coal for thermal power plants which had been supplied by the coal-rich Donbass region before Kiev began its military operation there in the spring.

"Due to the fighting we have lost almost 12 million tons of coal in recent months. State-owned enterprises have extracted 16 million tons, and they have lost a total of 3.7 million tons," Zyukov said, as quoted by Ukrainian news agency Unian.

According to the deputy minister, coal production has decreased by 17 percent compared to last year – from over 68 million tons to 57.

In early October, Ukraine's minister of energy, Yury Prodan, said the country has fallen short of coal to produce even 30 percent of the country's electricity. He added that Ukraine's private enterprises plan to buy about four tons of the fossil fuel from Russia.

In search of other coal producers, Kiev has appealed to South Africa, which is to supply up to 250,000 tons of coal to Ukraine in November, said Zyukov.
You can share this story on social media: