Iran launches Middle East's 'biggest' gold plant, plans to double production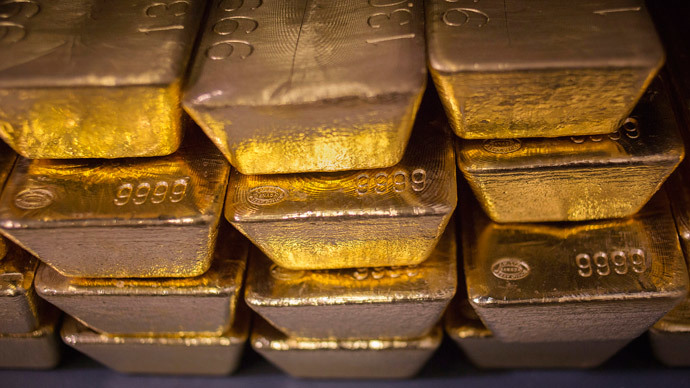 Iran has opened a new gold processing plant, reportedly the biggest in the Middle East, hoping to double its production of precious metals. Using a unique technology, Tehran says it will now mine up to three tons of gold per year.
Iranian TV reported that the opening ceremony was attended by First Vice President Ishaq Jahangiri.
The new facility is located near one of the country's richest mines, Zareh Shuran. It is located 35 kilometers from the city of Takaab in northwest Iran, in an area where gold, silver, and mercury are extracted.
The gold ore reserves of the Zareh Shuran mine are estimated at 20 million tons.
According to authorities, the plant's production can reach three tons of gold per year and thus can double the total of Iran's gold production.
Worth over $31 million, according to IRNA, the plant will use a new technology which was created in Iran.
It is expected that the plant's gold production capacity will soon reach six tons per year. Silver and mercury productions are expected to hit 2.5 and 1.5 tons, respectively.
READ MORE: Russia and Iran discuss 'oil for power plants' deal
This implementation is part of the so-called "economy of resistance," which Iran's Supreme Leader, Ayatollah Ali Khamenei, introduced in February.
The policy includes domestic economy building with maximum utilization of the country's resources, as well as the promotion of a knowledge-based economy and innovation. The ultimate goal is to become the No. 1 knowledge-based economy of the region.
Iran is still under tough sanctions that were imposed in 2012 over its nuclear program, which the West claims is aimed at developing atomic weapons. However, Iran says the program is for peaceful, civilian purposes.
World powers are demanding that Iran restrict its nuclear program so that it cannot be used to build atomic weapons.
Iran is currently facing a November 24 deadline to reach an agreement on its program, within the framework of year-long diplomatic talks.
You can share this story on social media: