Russia and Iran discuss 'oil for power plants' deal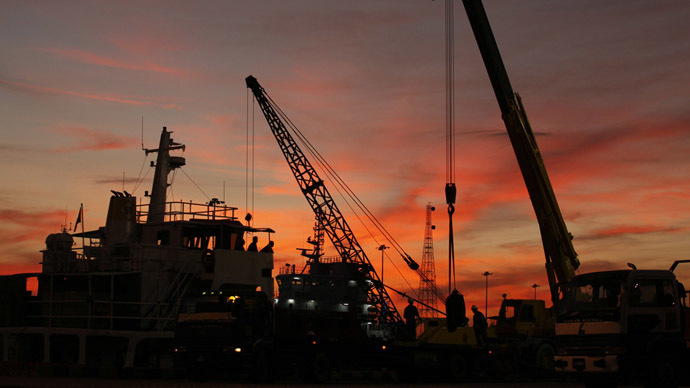 Moscow and Tehran are discussing plans for Russian companies to help construct power plants in Iran, in return for crude oil, sources close to the trade talks now underway in Tehran told ITAR-TASS.
The sources did not disclose the amount of Iranian oil to be delivered in exchange for the power plants, but estimate the first stage of the contract could be worth up to $5 billion.
Russian state-run power utility Inter RAO and Inter RAO Export, as well as Technopromexport would supply equipment and help construct the power stations in Iran, Russian Energy Minister Aleksandr Novak said in Tehran Tuesday. He said the companies will discuss details in the coming weeks.
He also stressed that Western sanctions against Russia are unlikely to affect Moscow's plans to boost energy cooperation with Iran.
"I think these questions (American sanctions and bilateral cooperation between Russian and Iran) are not related, as we have long cooperated and developed mutually beneficial projects in the industries of power, oil and gas, and the peaceful use of nuclear energy," Novak said Tuesday at a meeting with Iranian Energy Minister Hamid Chitchian.
Novak is part of the Russian delegation for the 11th annual Russia-Iran Trade Council in Tehran.
"Our task is to restore trade and economic activity that we enjoyed during Soviet times," said the Russian energy minister.
On Tuesday Iran and Russia are scheduled to sign an agreement to boost economic cooperation, the IRNA news agency reported, citing Deputy Oil Minister for International Affairs Ali Majedi.
While in Tehran, Novak also held a meeting with the head of Iran's Atomic Energy Organization (AEOI) Ali Akbar Salehi. On August 30 Salehi said Iran and Russia will sign a contract for the construction of new nuclear power plants when President Vladimir Putin and Iranian President Hassan Rouhani meet within the month.
Also on Tuesday Novak met with Iran's Oil Minister Bijan Namdar Zanganeh.
In August, the two countries signed a so-called 'oil-for-goods' contract that widens economic cooperation, allowing Moscow to import 500,000 barrels of Iranian oil per day, in exchange for equipment and goods. Moscow has the right to re-sell the purchased oil, to China, for example.
Russia-Iran trade is currently worth $5 billion a year, but the new deals could boost the volume of trade in the coming years.
You can share this story on social media: