Sanctioned Russia and Iran sign 5-yr deal to ease Western pressure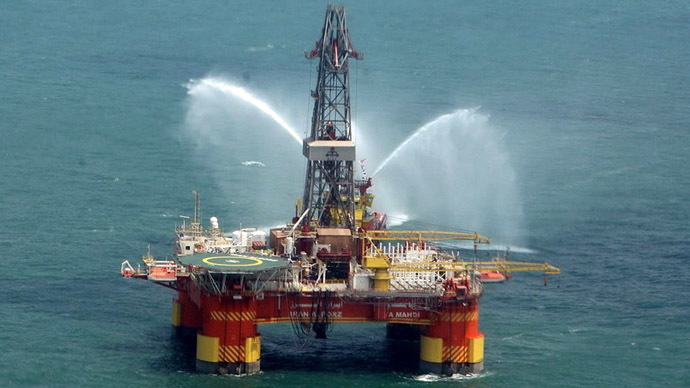 Moscow and Tehran have signed far-reaching deals, from energy to consumer goods, which are expected to undermine Western-led sanctions against the two countries.
Russia's Energy Minister Aleksandr Novak met with Iran's Oil Minister Bijan Namdar Zanganeh and signed a five year memorandum of understanding between the two governments, Russia's Energy Ministry announced in a statement released on August 5.
The agreement envisages wider economic cooperation, which includes closer ties in the oil and gas sector, construction and rebuilding of generating capacity, development of power supply network infrastructure, machinery, consumer goods, and agriculture.
It lays the foundation for a multi-billion dollar oil agreement between Moscow and Tehran, or the so-called oil-for-goods contract.
On Wednesday Novak confirmed that Russia may start delivery of Iranian crude oil.
"Concrete delivery volumes will be determined in accordance with the market demand," he said.
Russia's Energy Minister stressed that cooperation between Russia and Iran didn't violate the UN Security Council resolution.
The oil trade portion of the cooperation deal could be worth $2.35 billion per year, Kommersant reported. In January, the media said Iran and Russia were poised to sign an oil-for-goods swap worth $1.5 billion per month.
Moscow may buy 500,000 barrels of Iranian oil per day which is well below the 1 million barrels per day allowed under the nuclear deal reached in January between the US, Britain, France, China, Russia, Germany, and Iran.
According to the newspaper, Russia and Iran agreed on the deal last September during a private meeting between Russian President Vladimir Putin and Iranian President Hassan Rouhani.
Further contract specifics will be discussed at the next Russia-Iran intergovernmental commission meeting in Tehran on September 9-10.
The deal comes at a sensitive time for both Russia and Iran, as the two countries have been under the pressure of Western sanctions hitting their strategic energy sectors.
In the future, crude supplies from Iran can be accompanied by "petrochemical products, cement, carpets, processed vegetables and fruits," as ITAR–TASS quotes Levan Dzhagaryan, Russia's ambassador to Iran.
Russia-Iran trade is currently worth $5 billion a year. Oil reserves in Iran are among the world's largest, fourth only to Venezuela, Saudi Arabia, and Canada. Iran is home to 18 percent of the world's total natural gas reserves.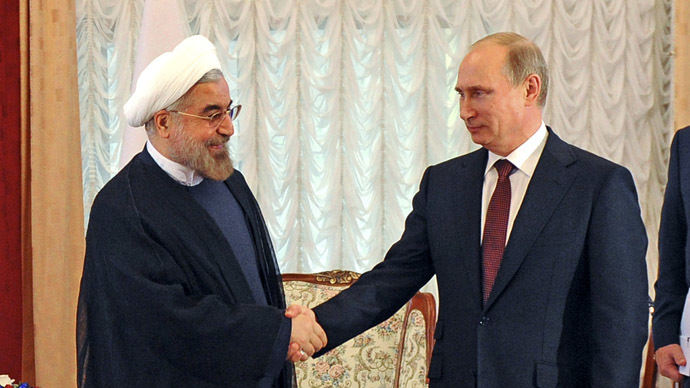 'Sanctioned birds' flock together
With the proceeds Iran intends to buy Russian products and services. According to the Mehdi Sanai, Iran's Russia ambassador, Tehran is interested in buying Russian machinery, rails, heavy trucks, metals and grain.
Kommersant sources in the Russian government said the United States "has tried to disrupt the deal, threatening Russian and Iranian companies with sanctions."
The White House in Washington DC is wary that that the deal could derail Iran's plan to wind down its nuclear program.
Boosting cooperation between Moscow and Tehran could result in a strong backlash from the US.
"Moscow has exerted much effort for a solution to the Iranian nuclear issue, and was ready to abstain from actions that could evoke a sharply negative US response. But the situation has changed," Andrey Baklitsky an expert from the PIR Center (Russian Center for Policy Studies) told Kommersant.
Now that parts of the Russian oil sector have also been sanctioned by America, Russia is less worried about violating the oil embargo on Iran, Baklitsky explained.
"Russia, at present, is far less disposed to heed US recommendations, and Iran, the importance of which for the West has considerably increased," he said.
The US led sanctions against Iran a decade ago to try and curb development of the country's nuclear program. The West stopped buying Iranian oil, and investment and finance are still limited.
American company World Eco Energy has signed a preliminary agreement to invest over $1 billion to generate electricity in Iran.
You can share this story on social media: