Russia, Iran sign nuclear construction deal for 8 units
Russia is to build eight nuclear power units in Iran, as a new partnership agreement, guaranteed by the IAEA, was signed in Moscow on Tuesday.
The head of the Rosatom, Sergey Kirienko, and the chief of the Atomic Energy Agency of Iran, Ali Akbar Salehi, signed a series of documents, promoting the links in the field of peaceful application of atomic energy between the countries, RIA Novosti reports.
According to the agreement, Russia is to construct eight units with pressurized water reactors "turn-key ready" in Iran. Four of them will be built at the Bushehr Nuclear Power Plant, also completed by Russia a year ago.
Besides, nuclear fuel for the future reactors will be provided by Russia during the whole life cycle of the new reactors. Spent fuel will be returned for processing and storage.
"It is the turning point in the relations between our countries," Salehi said. "These friendly actions, taken by Russia will be well-remembered." He added that now Russia and Iran "have become even closer to each other."
The partners didn't touch upon the subject of possible shipment of enriched uranium to Iran.
"We didn't discuss this question today," Kirienko told journalists after the signing of the protocol.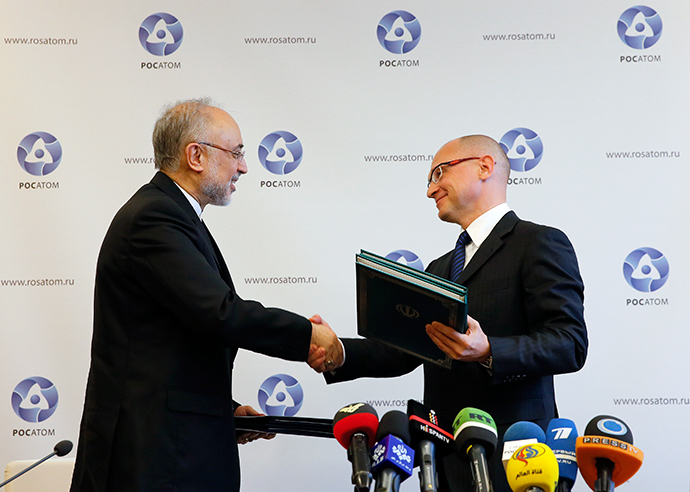 The new document has been a protocol to the intergovernmental partnership agreement, signed on August 25, 1992. It marked the decision to continue building a nuclear power plant 18km from Bushehr, on the coast of the Persian Gulf in Iran.
The project will be guaranteed by the International Atomic Energy Agency (IAEA), as the first unit of the Bushehr has been. It also will fully comply with the non-proliferation regime.
As reported earlier, the Bushehr Nuclear Power Plant – with construction started in 1974 by a German company – was completed by Russia in 2013.
Back then it was decided that Moscow would guarantee its operation for two years, and Russian experts would stay on hand to advise personnel and provide technical support.
Iran is currently facing a November 24 deadline to reach an agreement on its nuclear program, within the frame of year-long diplomatic talks. On Monday, Iran's Foreign Minister Mohammad Javad Zarif and US Secretary of State John Kerry tried to overcome the problems, and, according to the US State Department, the talks had proven "tough, direct and serious," yet "there is still time" for progress, AFP reported.
You can share this story on social media: