Alibaba founder Jack Ma tops China's rich list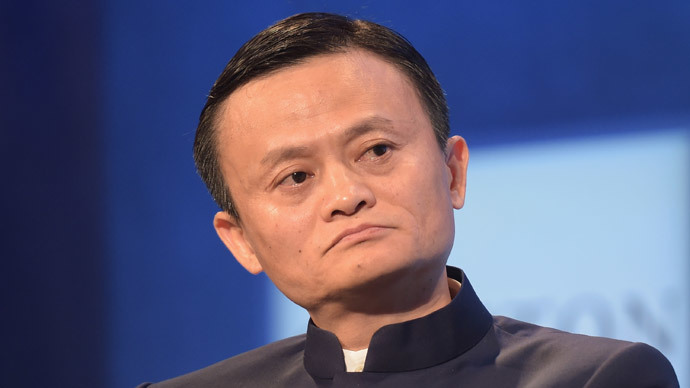 The personal fortune of Jack Ma, the founder and executive chairman of Alibaba, jumped to $19.5 billion from $7.1 billion last year, after his e-commerce company conducted the world's biggest IPO, Forbes magazine has said.
Alibaba, described as a mixture of Amazon, eBay and PayPal, raised almost $22 billion in a record initial public offering on the New York Stock Exchange in September.
READ MORE: Alibaba sets IPO record at $168 billion
Earlier this year Ma topped a similar list compiled by China-based luxury magazine Hurun, which estimated his wealth higher at $25 billion.
Jack Ma, a former English teacher, started Alibaba 15 years ago with $60,000 pulled together from his friends. The company is now valued at more than $240 billion dollars after listing in the US. Ma reaped more than $800 million from selling shares through the IPO, according to the company's filings. Alibaba has more than 80 percent of China's online e-commerce market.
The number of Chinese billionaires surged 44 percent in a year to 242 in 2014, according to the Forbes ranking. This year the richest Chinese had to make at least $700 million to get into the top ten.
Robin Li, head of the internet company Baidu, knows as the Chinese Google, came second in the Forbes list with $14.7 billion up from $11.1 billion in 2013. NASDAQ traded shares of Baidu hit record highs above $231 per share in September. Third place is taken by Ma Huateng of big Chinese online firm Tencent. His fortune jumped to $14.4 billion from $10.2 billion last year.
"The fortunes of Chinese web entrepreneurs are starting to surpass US tech icons like Paul Allen, Eric Schmidt, Jerry Yang and Sheryl Sandberg," said Russell Flannery, senior editor and Shanghai Bureau Chief of Forbes Asia.
"That is telling us that China will compete with, if not surpass, the US for the lion's share of new wealth to be made in an era when e-commerce and mobile services are going to become a lot more pervasive," he added.
While internet entrepreneurs lead the ranking, billionaires from China's traditional sectors, like real estate, were hit by the overall economic slowdown and problems in the property market.
Last year's number one tycoon, the chairman of Dalian Wanda Group, Wang Jianlin, fell to 4th position with $13.2 billion against $14.1 billion a year ago.
Last week official data showed real estate prices in China fell 1.3 percent year on year in September, the sector's fifth consecutive monthly drop. The property market in China has come down this year as the government's cooling measures have come into effect.
You can share this story on social media: