Russia to quality control resumed Chinese pork deliveries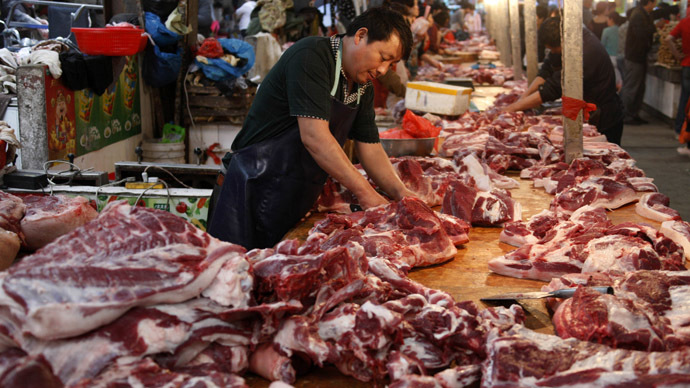 Two Chinese companies will deliver pork to Russia through Kaliningrad and St. Petersburg, as well as two land crossings in the country's Far East. It is expected to partially substitute for Western supplies halted by Moscow's food ban.
"In line with Rosselkhoznadzor's instructions, pork exports from China will reach Russia via the motor and railway transport check point Pogranichny-Suifenhe and via the seaports of Kaliningrad, St. Petersburg and Vladivostok," TASS quotes a Rosselkhoznadzor spokesman.
The pork will be exported by two butchering companies, Heilongjiang Baoquanling Shuanghui Food Industry Co. and Wangkui Shuanghui Beidahuang Food Co., Ltd., both headquartered in China's Heilongjiang province which borders Russia.
A Russian veterinarian will supervise the pork production in China before it is exported to Russia, the Russian veterinary and hygiene watchdog Rosselkhoznadzor said on Thursday.
"The presence of a Russian veterinarian at their production facilities will be an additional guarantee of meat safety. He will control the raw materials, the butchering procedure, and veterinary examination," Rosselkhoznadzor said, adding that the veterinarian supervision will also be provided at dispatch.
In August, Russia agreed with China to resume pork imports, which had been suspended in 2004. The ban had been imposed due to the lack of complete and accurate information provided by China about the spread of infectious animal diseases.
Moscow has changed its stance as it is seeking to replace supplies from the West, which it is blocking because of its diplomatic standoff over the Ukraine conflict.
READ MORE: Russia bans agricultural products from EU, USA, Australia, Norway, Canada
Russia's Far East region used to rely heavily on meat supplies from the United States and Canada. The country bought 619,200 metric tons of pork valued at $2.13 billion in 2013, with Denmark, Germany, Canada and Brazil as its main suppliers, data from Russia's Federal Customs Service shows.
China is the world's biggest producer of pork, as it produced 68 million tons in 2013.
About a week ago China said it was also ready to supply Russia with a wide range of fruits and vegetables.
In mid-August China said it planned to set up a special logistics center in Dongning on the border with Russia's Far East to implement direct sales.
READ MORE: China to start direct sales of fruit and vegetables to Russia