Gazprom says sanctions won't sabotage operations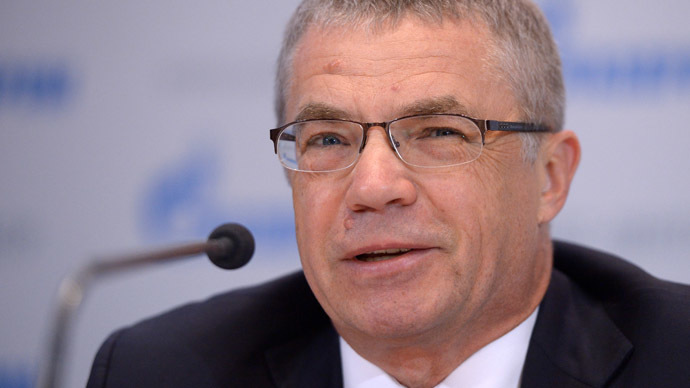 Western sanctions will not hurt Russia's Gazprom, since the company only imports 10 percent of its technology and equipment from abroad, Deputy Chairman Aleksandr Medvedev told reporters on Tuesday.
"At Gazprom we only import 10 per cent of equipment and services, 90 per cent of our demand is covered by Russia's producers," Medvedev told journalists at an industry conference held on Sakhalin, an island in Russia's Pacific.
In August, the US and EU banned the export of technology and equipment needed for deep water, Arctic, and shale oil and gas exploration and extraction. In September the sanctions were widened to include more companies.
Medvedev said those against Gazprom apply only to raising funds, and not technology.
Both the EU and US sanctions hit Russian oil companies Rosneft, Gazprom Neft, Transneft, Lukoil, and Surgutneftegaz has also been added to the blacklists. The US included Gazprom in its sanctions list.
When asked if sanctions would hurt the company, Medvedev said that economic sanctions have never been effective.
"No successful implementation of sanctions (in history) is known," Medvedev told reporters.
Oil and gas is Russia's biggest industry and make up 70 percent of the country's exports. The Kremlin relies on industry revenues for about 50 percent of the federal budget.
Production reached an all-time high in 1988 under the Soviet Union, but extraction methods then required little industrial development, and weren't as complex as deep water, Arctic, and shale drilling.
However, Russia sees the sanctions as an opportunity to develop products they have long relied on the West to deliver.
"We have the opportunity to replace a large amount of technology and equipment that fall under sanction in a short period of time," Russia's Deputy Energy Minister Kirill Molotsov said at the Sakhalin oil and gas conference on Tuesday.
Molotsov envisions Russia being able to manage its own production in about three to four years' time.
"Most of the technology has its own counterpart, and in the next 3-4 years Russian companies are capable of using import substitution to solve the problem we face," he said.
Russia may also look to China for oil and gas sector equipment, but likely not Japan, which has stalled its latest round of sanctions against Russia, but has penalized Russia in line with the US.
You can share this story on social media: