OECD cuts 2014 growth forecast for advanced economies
Published time: 15 Sep, 2014 14:02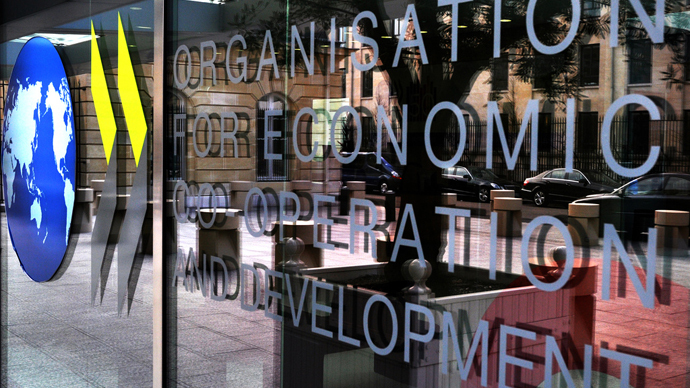 The major global economies are losing steam, and are expected to forfeit some 2014 growth, the OECD said Monday. They are weighed down by a sluggish eurozone economy, growing Middle East tension, the Ukraine crisis, and the Scot's independence referendum.
The global economies are growing unevenly and just marginally, with the number of jobless remaining far too high in the main advanced economies, said the Organization for Economic Co - operation and Development (OECD) in its latest report.
It has put eurozone GDP growth down to 0.8 percent in 2014 from the previous 1.2 percent outlook made in May. Next year, the think tank expects the eurozone to grow 1.1 percent, also down from the 1.7 percent May forecast.
The US is likely to grow by 2.1 per cent this year and Canada's growth is estimated at 2.3 per cent this year and 2.7 per cent in 2015.
Forecast for the UK is higher, projected at 3.1 per cent in 2014 and 2.8 per cent in 2015.
"Geopolitical risks have grown in recent months, with an intensification of conflicts in Ukraine and the Middle East, and increasing uncertainty about the outcome of the referendum on Scottish independence," were highlighted by the OECD ahead of the Scottish referendum on Thursday.
The Paris-based OECD believes the slow growth in the euro area to be the "most worrying feature" of its Interim Economic Assessment forecast, recommending more monetary support for the euro area, like embarking on the path of full-scale quantitative easing (QE), otherwise the eurozone "runs the risk of prolonged stagnation."
This monetary policy might potentially involve the European Central Bank purchasing government debt.
"Given the low growth outlook and the risk that demand could be further sapped if inflation remains near zero, or even turns negative, the OECD recommends more monetary support for the euro area," the think tank said. "Recent actions by the European Central Bank are welcome, but further measures, including quantitative easing, are warranted. Given the weakness of demand, European countries should also use the full degree of flexibility available within the EU's fiscal rules."
Quantitative easing is a monetary policy that stimulates an economy through zero or near-so interest rates, and priming it with cash through bond purchases.