Burger King buys Tim Hortons for $11bn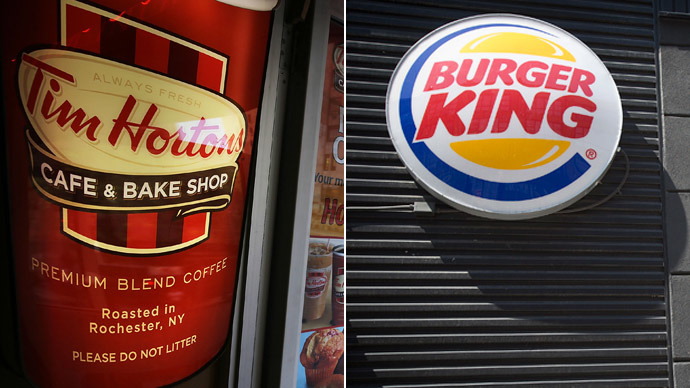 The famous flame grilled Whopper burger is taking over a chain better known for its coffee and doughnuts in a deal that will create the world's third largest fast-food chain with a total market capitalization of over $21 billion.
Tim Hortons and Burger King together will have more than 18,000 outlets in 100 countries, according to a statement from the companies.
The new fast-food chain will follow such global brands as McDonald's and KFC.
Burger King is currently based in Miami and will relocate its headquarters to Canada, which will help trim its tax bills. Canadian corporate tax rates are 15 percent compared to 35 percent in the USA.
3G Capital, the investment firm that owns Burger King, will have a 51 percent share in the new company. Warren Buffet's investment group Berkshire Hathaway will front $3 billion in financing for the deal, and Burger King Worldwide Inc. will pay $59.74 ($65.50 CAN) in cash and 0.8025 common shares of the new company for each Tim Horton's stock. Tim Hortons shares are priced at $85.79 ($94.05 CAN), a price based on Burger King's Monday closing price.
Tim Horton's was bought by Wendy's International in 1995, but demerged as a separate public company in 2006.
READ MORE: Burger King in merger talks with Tim Hortons Donut chain
You can share this story on social media: