Burger King in merger talks with Tim Hortons donut chain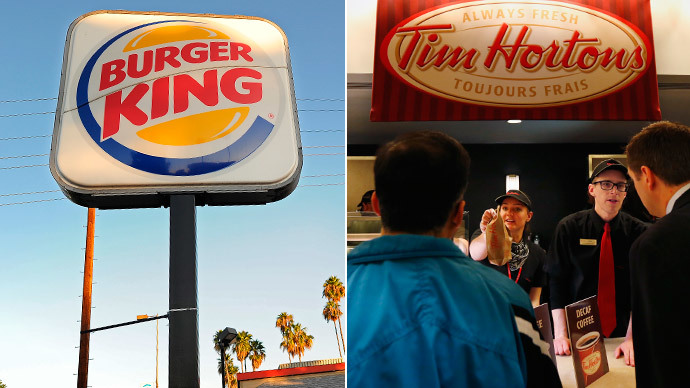 Burger King is in talks with Canadian donut and coffee chain Tim Hortons Inc which could result in the merging of the multinational companies into the world's third largest fast-food restaurant business.
The acquisition of Tim Hortons by Burger King would result in a new company with a market cap of approximately $18 billion. It would have its headquarters in Canada because of the overall lower level of corporate taxes to be paid.
Burger King would no longer be based in the United States and the deal would be characteristic of the recent trend in tax inversion transactions. Corporate insiders told Reuters that the move could happen within a matter of days.
While the two will be joining forces under the banner of the new entity, they will retain their individual brand identities.
Tax inversions are becoming increasingly popular and a motivating factor for cross-border corporate deals, being dubbed the "hottest trend in mergers and acquisitions" by the Wall Street Journal at the beginning of August.
US President Barack Obama has condemned the deals as a sort of submission to a herd mentality by companies who want to circumvent higher US corporate taxes.
Low interest rates have been encouraging the move, according to a note from KeyBanc analyst Christopher O'Cull which followed discussions. He said that Tim Hortons will be trading at a discount to Burger King.
However, there are those who are not joining the so-called "herd". Walgreens has decided not to pursue a tax inversion deal in taking over European pharmacy chain Alliance Boots, reasoning that it would not be in the best interests of the shareholders, reported Reuters,
Burger King is primarily owned by New-York based investment firm 3G capital which has a 70 percent stake in the chain. It will hold on to the majority of its shares while the rest will be owned by current Burger King and Tim Hortons shareholders.
3G made the $3.3 billion acquisition in 2010 when the company was struggling. Although in 2012 it took the company back to market, it has retained the majority of shares.
Burger King said its own experience will boost the international growth of Tim Hortons.
Neither company will, however, comment on the potential deal until a settlement is reached or discussions are brought to a close.