Mexico signs energy reform into law ending 76yr monopoly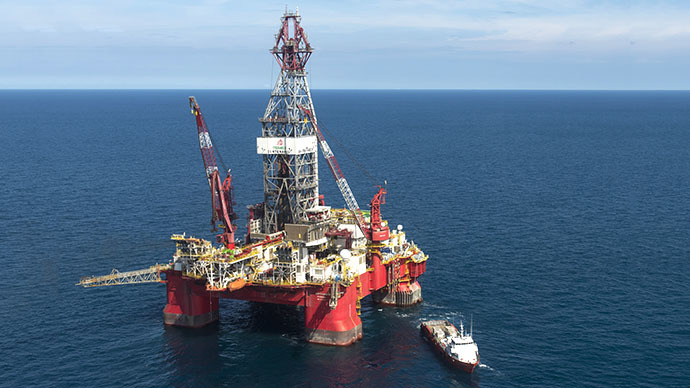 Mexican President Enrique Pena Nieto signed into law Mexico's historic energy reform bill that will allow foreign companies access to oil and gas fields in the country.
The reform is meant to make Mexico's oil industry more competitive, and drive economic growth in the world's 15th largest economy.
"It is the moment to put the energy reform into action," Pena Nieto said at the signing ceremony at the National Palace in Mexico City on Monday.
In December 2013 Mexico approved the historic bill ending the 75-yr oil monopoly that barred foreign participation.
The new law doesn't just break the monopoly on foreign companies, but now domestic private oil and gas firms will be able to operate in direct competition with Pemex. Before, private companies were only allowed to do work for Pemex under service contracts.
Nieto expressed he wants Mexico - currently the 9th biggest producer of crude oil - to remain an exporter, not an importer.
The President promised oil output will increased 20 percent to 3 million barrels per day in 2018. Bringing in foreign expertise and investment will save declining production.
In the last 10 years, production from Pemex has dropped nearly a third - in 2013 it produced only 2.6 million barrels per day compared to 3.8 million barrels per day in 2004.
Since 1938 Petroleos Mexicanos (Pemex), Mexico's state owned oil giant, has held a monopoly over oil and gas, and the reform aims to make Pemex more efficient through cooperation and joint ventures with foreign players.
Japan's Mitsui & Co, Anglo-Dutch Royal Dutch Shell, and US-based Chevron Corp. and ExxonMobil have all had been keeping a pulse on Mexico since it announced the landmark reform in December 2013.
Russia's Lukoil was one of the first companies to forge a relationship with Pemex, and in January agreed to a joint venture exploring and extracting oil.
On Wednesday the government will announce the 'Round Zero' allocation of gas and oil fields that Pemex gets to retain control of. The rest of the areas will be auctioned off by June 2015. Pemex has asked to keep 1/3 of its oil fields and projects.
Mexico is believed to be home to the world's 6th largest reserves of shale gas. The process of extracting oil and natural gas from shale rock formations requires sophisticated hydraulic fracking technology. Pemex is also a novice at excavating deep-water gas reserves.
US companies will be keen to get a fresh piece of Mexican oil fields since at present Mexico is a top 5 exporter of crude oil to America.
Left-leaning and socialist politicians voiced their stark opposition to the bill, which they believe will surrender control of Mexico reserves to foreign companies and strip Mexican citizens of their fair share of oil wealth.
Pemex gained ownership of all natural resources when Mexico's government took over operations from foreign oil companies in 1938. At the time, the move was viewed by many as a symbol of nationalism.
So now the leftist opposition accuses the president of gutting Pemex, the country's main source of tax revenue, and betraying the nationalization legacy. Pena Nieto rejected that criticism Monday, saying the reforms "preserve and assure our national property."
The signing comes five days after the Mexican Senate gave final approval to the law. Nieto's administration must now write new regulations for the energy sector, a project the president said would be finished in October.