'Filthy, shameless robbery': Thousands protest Mexico's new tax regime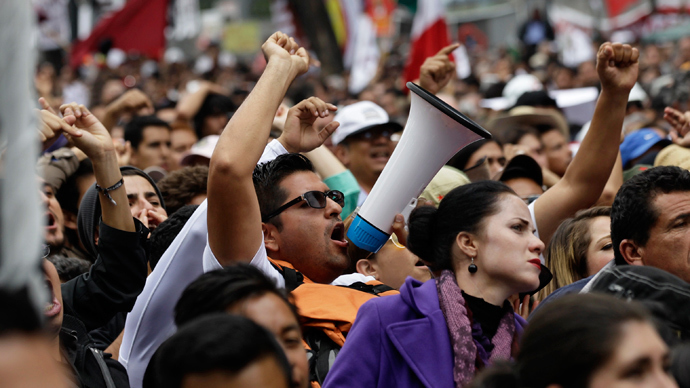 A reported 40,000 protestors rallied in Mexico City to reject President Enrique Pena Nieto's new tax plan, which increases the burden on individual taxpayers and allocates $27 billion investment to state-oil company Pemex.
The leftist opposition called for a 'peaceful mobilization' against the new oil reform that is 'treasonous' and 'filthy, shameless robbery' of the state's resources.
Early in August Pena Nieto announced his plans to end Mexico's 75-year-old state oil monopoly and open up the market to foreign investors.

Under the 'grand transformation' President Pena Nieto proposed a 2014 budget that increases the tax burden mostly for the middle class. The tax rate will go up to 32 percent from 30 percent for those who earn more than 500,000 pesos ($37,800) a year.
He also proposed the country's first carbon levy, soft drink tax, and capital gains levies. The scheme avoids taxing food and medicine, despite many observers expecting the move. The president said he didn't adopt that approach because it would hurt the poorest Mexicans. But he said he would follow through with periodic increases in gasoline prices, which is aimed at phasing out fuel subsidies in Mexico.
Income disparity in the country is enormous, as Mexico  is home to the world's richest man, telecoms magnate Carlos Slim, while nearly half the population lives in poverty, Associated Press reports.
Pena Nieto did not provide further specifics of the social program plans or the tax changes, but said that "those who have more income will pay more."
The proposals must be approved by both houses of congress and a majority of state legislatures because they involve constitutional changes.
Pena Nieto also asked Congress to approve a budget for 2014 with a deficit of 1.5 percent of gross domestic product that would climb to about 3.5 percent, the highest level in more than a decade, where a proposed $27 billion investment in Pemex is included.
The changes are part of a series of ambitious reforms that Pena Nieto hopes to push through in his first year in office.
These reforms are intended to increase tax collection by 1.8 percent of GDP in 2014 and 3.9 percent by 2018. Currently, Mexico has the lowest tax revenue as a percentage of GDP of all 34 members of the Organization for Economic Cooperation and Development.
Pena Nieto also requested Congress approved his move to revise the budget deficit to allow for more government spending in order to accelerate the country's slowed growth.
The government collects about a third of the federal budget from Pemex in taxes.
The changes would allow Pemex to invest more of its revenue in exploiting new and mature oil and gas fields in a bid to stem a decade's slide in output.
You can share this story on social media: