​End of patent fight? Samsung, Apple halt lawsuits outside US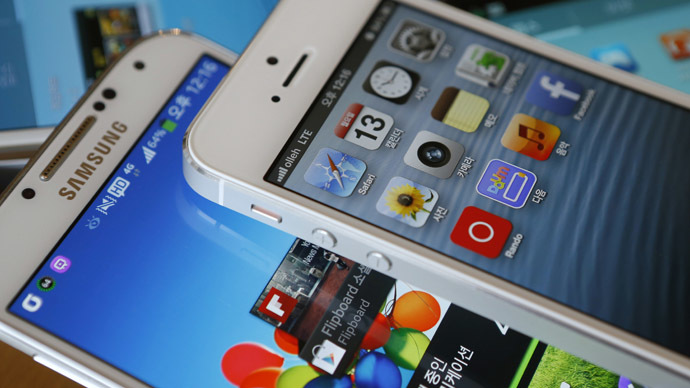 Apple Inc and Samsung Electronics have agreed to end all patent lawsuits outside the United States, thus scaling down a three-year legal battle between the world's largest smartphone makers.
The US and South Korean tech giants issued nearly identical statements announcing the global ceasefire while vowing to pursue ongoing litigation in the United States, says Bloomberg.
"Apple and Samsung have agreed to drop all litigation between the two companies outside the United States," Samsung said in the statement without specifying the whole terms of the deal. "This agreement does not involve any licensing arrangements, and the companies are continuing to pursue the existing cases in US courts."
The agreement ends patent disputes in Australia, France, Germany, Italy, Japan, the Netherlands, South Korea, Spain and the United Kingdom. The trials in those countries drained millions of dollars on proceedings and forced both companies to engage armies of lawyers.
However, the deal caused an ambiguous reaction, with Michael Risch a law professor at Villanova University in Pennsylvania, worrying it could mean just a pause before another big stage in the patent battle.
The companies may "just be taking a breather before the next skirmish begins," Risch told Bloomberg.
Apple and Samsung have been involved in patent proceedings for three years, constantly accusing their rival of using technology from their own devices.
Apple accused Samsung of copying its iPhone designs, while Samsung countered that Apple is implementing Samsung's technology of wireless transmission without permission.
At the beginning of May a court in California obliged Samsung to pay Apple $119.6 million compensation over the violation of two patents, ignoring two other claims by the US company.
The same court recognized that Apple also violated one Samsung patent and set the compensation at $158,400.
Apple and Samsung together dominate the global smartphone market accounting for a combined market share of 37.1 percent in the second quarter of 2014, according to Strategy Analytics.