HSBC: Russia enters technical recession, as Ukraine's drag weighs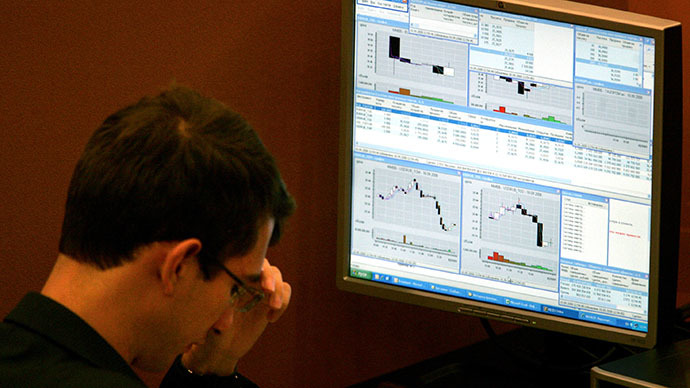 Russia has slipped into a technical recession, as the growth has been negative for the past two consecutive quarters, and stagflation could be on the horizon, a new HSBC report reveals. Political tension in neighboring Ukraine is being blamed.
"In June, the Russian economy showed zero growth, and slipped into a technical recession in the first half of 2014", HSBC analyst Artem Biryukov commented in a Thursday note.
"Unfortunately, the recent spike in geopolitical tensions amid the Russia-Ukraine standoff will likely have long lasting negative effects on private fixed investment growth in Russia. This will hamper economic recovery in Russia in 2014-15, despite large investments further to the signing of the Russia Chinagas deal," Biryukov said.
Ukraine is Russia's third largest trading partner with a turnover of around $22 billion in 2013. Souring relations with some western countries that don't agree with Russia's actions in Ukraine is hitting Russian foreign trade. In March 2014 it fell 11.4 percent compared to March 2013.
According to Biryukov, the most likely outlook for the second half of 2014 is stagflation - low economic growth coupled with high inflation.
"Stagflation remains our baseline scenario for 2H 2014. The shaky improvement of manufacturing and services sector activity in June is unlikely to be sustained for purely statistical reasons. Once positive base effects fade in 2H 2014, we could see even negative annual GDP growth data appearing," Biryukov wrote.
Russia could further fall into the financial abyss, HSBC warns. In the first quarter of 2014, between January and March, Russia's seasonally adjusted GDP fell by 0.5 percent.
HSBC analysts used manufacturing, service industry, and business activity indicators as proof the Russian economy has slowed, nearly to a halt.
Russia's Purchasing Managers Index (PMI) in June grew to 49.3 points, but still didn't break 50, the threshold that denotes expansion.
The Production Index was 50.1 points after it hit a minimum of 47.1 in May.
The economy only added 0.9 percent in the first quarter of 2014, revised from the previously assessed figure of 0.8 percent, according to Rosstat, the country's statistical office. It was a 0.3 percent drop compared to October-December 2013.
At the height of the conflict in March when Crimea rejoined Russia, Russia's GDP growth was 0.9 percent, compared to 1.3 percent the year before.
You can share this story on social media: