Moody's cuts Russia's rating outlook to 'negative'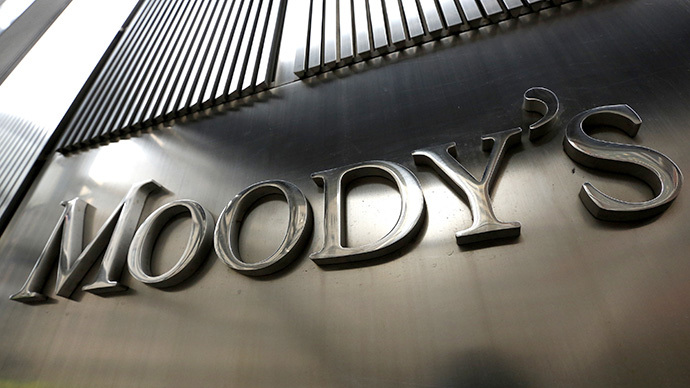 Moody's ratings agency has cut Russia's outlook to negative, citing the threat to the Russian economy from the Ukraine crisis and a deterioration in Russia's medium-term growth outlook.
Moody's Investors Service held Russia's overall rating at Baa1 against a background of the country's strong fiscal and external accounts.
However, it warned that the spread of the conflict in Ukraine has raised the danger of a "geo-political event risk" for Moscow, including from Western sanctions.
Moody's said in its report that it views the situation in eastern Ukraine as more difficult compared to Crimea, "given the complicated background of separatist forces and the outbreak of violence."
The investors service also cited Russia's lower annual growth outlook, which has fallen to 1.7 percent from previous forecasts of three percent over the next five years.
It said the fall was more pronounced than in Russia's "peer countries such as India, Italy, Kazakhstan, Mexico, and South Africa, among which the median and average decline is estimated at only around 0.2 percent points by the IMF."
The report says that Russia's Baa1 rating remains constrained by its weak institutions and an over-reliance on oil price developments.
It also citeds a "lack of structural reforms" and a "declining working age population" as reasons for the negative outlook. These factors add to "downward pressure on Russia's potential growth rate in the coming ten years," the report states.
If Russia's domestic growth outlook were to deteriorate further, Moody's warns, there could be a downgrade of Russia's sovereign rating, "in particular if lower growth were to negatively affect Russia's fiscal and external accounts."
But the agency did not cut Russia's sovereign rating, saying it does not foresee the conflict getting worse or further lowering Russia's growth.
The investors service also said there could be stabilization in the ratings outlook for Russia, which "could be triggered by a resolution of the crisis in Ukraine and a reversal of the downward trend in Russia's medium-term growth."
The "enactment of appropriate measures to increase the country's economic growth potential, economic diversification or to improve its institutional strength" could result in a ratings increase, states the report.
You can share this story on social media: