Ukraine's funeral if they sign EU trade deal - Putin economic aide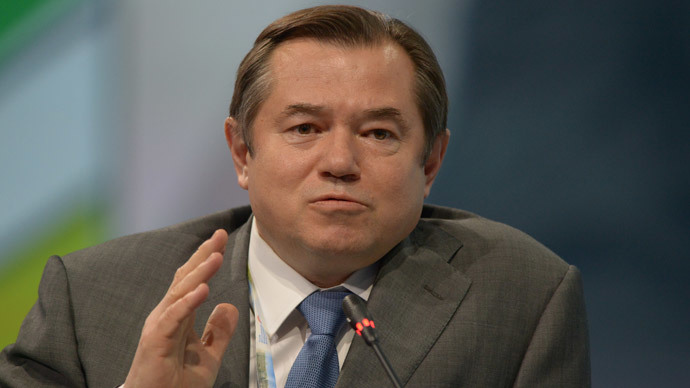 "For Ukraine, signing the agreement is economic suicide," Sergey Glazyev, an economic aide to Russian President Putin said, warning of a sharp currency devaluation, soaring inflation, and lower living standards.
Kiev's new government will sign a free trade agreement with the EU on Friday June 27, after the previous government failed to sign the agreement in November leading to public protest and near all-out civil war.
"There is no doubt that by signing this agreement it will result in an acute devaluation of the hryvnia, an inflation surge and in turn hyperinflation, and a drop in living standards," Glazyev said on Tuesday.
Glazyev, an outspoken opponent of Ukraine joining the EU's orbit, echoed President Putin's warning that Ukraine will no longer be able to import goods from Russia duty-free. Glazyev calculated last year, before the dispute with Russia began, that flooding Ukraine's economy with European goods could cost the country $4 billion, or 2 percent of its GDP.
Ukraine signed the political portion of the treaty in March, but the economic content is much more significant as it sets a path for Ukraine to open itself to Europe's $17 trillion market.
Ukraine's exports to Russia totaled over $16 billion last year, nearly a quarter of all goods, and exports to Europe were just over $17 billion, according to EU trade data.
Russian Finance Minister Aleksey Ulyukaev also sees little value in the trade deal, as it will turn Ukraine into a "second-rate EU state", but without any of the benefits.
"By signing the Association Agreement the countries must restructure their laws to comply with European standards and open the markets. However, in return, they don't receive any influence on European legislation or policy," Ulyukaev said.
He was referring to the cost of adopting 350 new laws and 200,000 pieces of legislation to ready the country for trade with Europe.
Brussels implemented the Eastern Partnership initiative to incorporate six former Soviet Republics into the EU free trade zone. Poland has already joined the EU as a member state.
Moldova and Georgia plan to sign the trade association agreement tomorrow along with Ukraine, but Belarus has already joined Russia's Eurasian Trade Union and Armenia plans to follow. Azerbaijan hasn't made a move one way or another.
Trilateral consultations with Russia will be held on July 11.
You can share this story on social media: