To deal or not to deal? Ukraine's EU-Russia crossroads in facts and numbers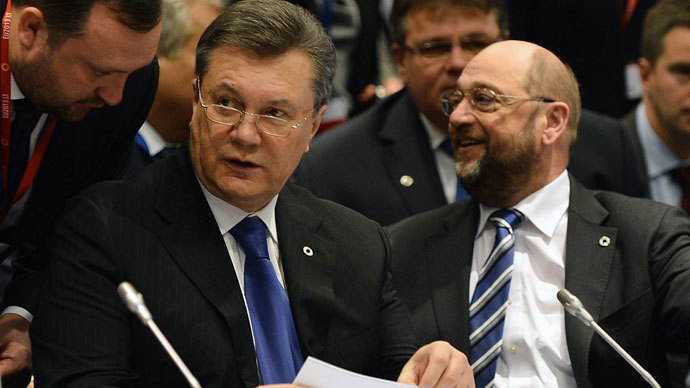 On the last day of a Vilnius summit, Ukraine has confirmed it will delay signing its landmark trade agreement with the EU, saying the West failed to offer enough immediate economic benefits.
After years of planning the Eastern Partnership Summit and long hours of trade talks in the Lithuanian capital, the results at the summit were split: Ukraine and Armenia did not join, while Moldova, and Georgia have signed a trade Association Agreement with the EU on Friday, November 29.
Ukraine's President Viktor Yanukovich said he will reconsider negotiations only after Europe offers more attractive "economic aid to Ukraine."
Ukraine faces debt repayments of more than $60 billion, or a third of the country's GDP, by July 2015, according to July Central Bank Data.
Meanwhile, the EU offered to compensate Ukraine to the tune of 1 billion euros for various losses that would result from a stricter trade regime by Russia that would follow the signing.
Ukraine needs more time to get prepared "to minimalize any negative effects in the initial period, which will definitely be felt by vulnerable parts of Ukrainian society," Yanukovych said, Interfax reported.
Dalia Grybauskaite, President of Lithuania, insisted the trade agreement terms won't be changed.
"The EU isn't going to bargain further. All the key terms are known. There will be no new ones," Grybauskaite, who presided over Friday's conference, said.
"I think that today's [Friday] Ukrainian leadership is choosing the way which is going nowhere," Grybauskaite added.
Both Moscow and Brussels have said they respect Ukraine's sovereign decision, but that doesn't mean the battle is over for Europe's second-largest country by landmass, with a $176-billion economy and a population of 45 million.
The following presents both roads that Ukraine faces, in facts and numbers.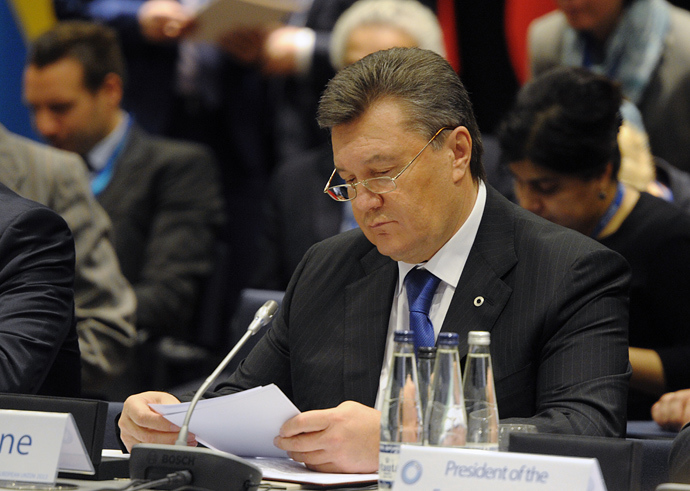 EU Association agreement (AA)
Another round of talks between Ukraine and the EU is scheduled for March 2014, where Kiev may ultimately decide to sign in, according to the Ukrainian president's advisor Andriy Honcharuk. This will be two months before Belarus, Russia, and Kazakhstan will have a document ready to sign onto their Eurasian Economic Union - the extended version of the Customs Union.
The terms set in the Deep and Comprehensive Free Trade Area (DCFTA), where AA becomes as an integral part, advertise immediate economic benefits in reduced trade tariffs. Though the figures seem impressive, but they don't take into account the cost of lost trade with Russia and CIS countries or transition expenses.
- The agreement eliminates about 95 percent of customs duties. Non-tariff barriers will go down by 35 percent compared to 2004. The Free Trade Agreement, as outlined by the European Commission,   will save Ukrainian exporters about €487million annually.
- Currently Ukraine exports $17 billion in export goods to Europe and $16 billion to Russia. By signing with the EU, they may have to forfeit their entire Russian export sector, which Russia estimates will immediately cost Ukraine 35 billion euros.
- The auto industry won't be immediately affected, but Ukraine will be given a "safeguard" on EU car imports. Ukraine imports 41,000 cars per year from the EU, about 13 percent of the market.
- The IMF recommended Ukraine raise gas tariffs for domestic consumers. Ukraine already pays $400 per 1000 cubic meters of gas, and a hike in prices would be domestically unpopular.
- In order to be up to trade standards, Ukraine would have to adopt 350 laws and the EU would need to draft over 200,000 pieces of legislation, a process both timely and costly.
- Ukraine would need to changes its competition laws, which would break certain cartels and monopolies, which may upset some of Ukraine's more powerful oligarchs and force them to 'clean' their money.
- Everything down to minute details– like the type of screws used on road signs to the width of gauges on railway tracks, would have to be switched.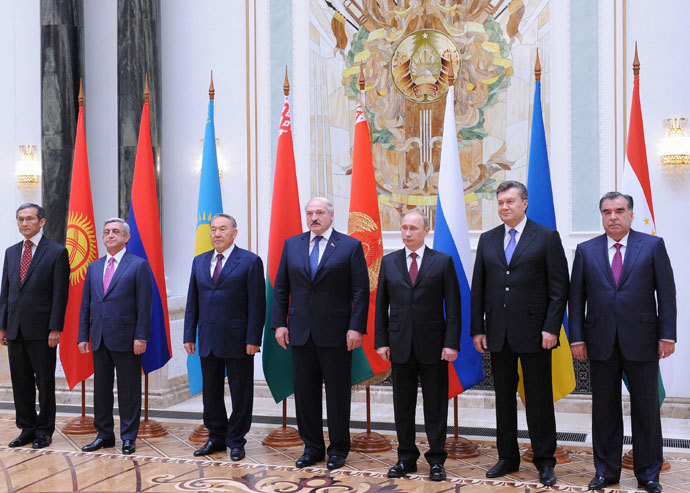 Eurasian Economic Community
Russia, Ukraine's main source of energy, loans, and trade, wants to dissuade its geographical partner from making a "suicidal" move towards Europe and sacrifice the option of joining the Russian-led Customs Union, that by 2015 will be extended to the Eurasian Economic Union, after a number of other CIS members, like Armenia, Tajikistan, and Kyrgyzstan join the club.
Here's what Russia and the CIS offer.
- Sticking with Russia would help guarantee a safeguard over their massive $20 billion in loans at Russian state-banks Gazprombank, Sberbank, VTB, and VEB.
- Unlike the EU trade deal, membership in the Customs Union would include military cooperation.
- Membership in the EEU will unite economic, legal, military, and customs services with Russia. 
- Russia decreased its net grain imports from Ukraine by 33.5 percent in the first half of 2013, according to the Ukrainian Grain Associating, but may boost imports if Ukraine joins the Customs Union. 
- Ukraine may be able to negotiate better gas relations with Russia, its main energy source provider. Gazprom, Russia's state-owned oil and gas giant, says Ukraine is overdue in a $1.3 billion gas bill.
You can share this story on social media: