Russia extends gas debt payment deadline for Ukraine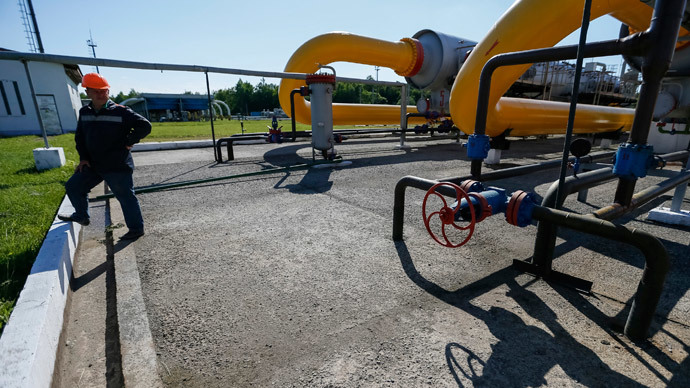 Gazprom will not be introducing a gas pre-payment method for Kiev on Wednesday after Ukraine missed the June 10 deadline to repay its debt. The deadline has been extended to June 16, Gazprom CEO Aleksey Miller said.
Miller spoke following a Russia-EU meeting in Brussels, stating that the deadline was extended until 10 a.m. next Monday.
He said during the meeting that Russia and the EU had successful bilateral talks. As a result, Russia made a step forward by compromising and agreeing to continue negotiations.
Earlier, Russian President Vladimir Putin spoke with German Chancellor Angela Merkel over the phone about Kiev's natural gas supplies debt to Russia, according to the Kremlin's press service.
"Putin stressed that despite the emerged difficulties, the Russian delegation obliges to continue the talks based on a constructive stance and with the aim of achieving a mutually beneficial agreement," the Kremlin said.
Russia did not block gas supplies to Ukraine on Monday, even though Kiev's deadline to pay its more than US$4 billion debt to state-owned company Gazprom had expired the morning of June 10.
Gazprom extended the original June 2 deadline by one week, and then added an extra day, as Monday was a public holiday in Ukraine.
Moscow has threatened to turn off gas supplies – a measure that was taken in 2006 and 2009.
The aim is to avert a possible cut-off in gas flows to Ukraine – a move that could also affect supplies to Europe.
Gas talks on Monday were inconclusive and the three parties agreed to extend negotiations to Tuesday.
The price dispute – the main stumbling block in the debate – was discussed, along with payments for June, July, and August, Russia's Energy Minister Aleksandr Novak reported after Monday's meeting.
The trilateral talks – brokered by EU Energy Commissioner Guenther Oettinger – included Novak, Ukrainian Energy Minister Yuri Prodan, and Gazprom CEO Aleksey Miller and his Naftogaz counterpart.
Over the weekend, Russian President Vladimir Putin informally met with new Ukrainian President Petro Poroshenko at WWII D-Day memorial celebrations.
On May 30, Ukraine transferred $786 million to Gazprom only covering a fraction of their massive $3.5 billion gas debt acquired over the past year.
Price remains a divisive issue between the two parties. Gazprom claims its current price of $485 per 1,000 cubic meters is fair, whereas Ukraine demands the old price of $268.50.
You can share this story on social media: