Wiggle Room: Russia gives Ukraine extra week before switching to prepayment system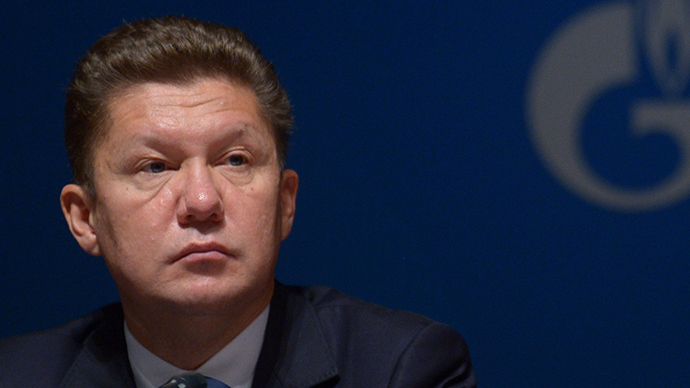 Gazprom will wait another seven days before it switches Kiev to a prepayment system for natural gas. Ukraine has until June 9 to pay its multibillion dollar overdue gas bill, Gazprom head Aleksey Miller said Monday.
"Ukraine has made the first tranche of the gas supplies [payment]. Today Gazprom got $786 million in its account. We welcome Ukraine beginning to make its gas debt payments, and rescheduled the [start of] the advance payment scheme to June 9. The introduction of the prepayment scheme will depend on whether the debt for gas delivered before April 1, totaling $2.237 billion, is paid in full," Miller said.
On Friday Ukraine paid $786 million of its $3.5 billion debt to Russia's state-owned gas utility Gazprom. The payment covered Ukraine's gas bills for February and March, but fell short of payment plan put forth by the EU in which Ukraine would pay the first $2 billion by May 30 and another $500 million by June 7.
#Moscow confirms Ukr paid $786.4mln as the 1st installment 4 gas supplies. #Gazprom welcomes it & postpones pre-payment regime until June9.

— PaulaSlier_RT (@PaulaSlier_RT) June 2, 2014
Miller said that Gazprom expects a May payment before June 9.
Ukraine has been late paying its gas bills since July 2013, according to Russian President Vladimir Putin.
Gazprom CEO had previously warned that if Kiev failed to pay its gas bill by June 2, exports to Ukraine would be halted effective June 3.
A gas war could hurt European consumers, as Gazprom sends nearly half of its deliveries through Ukraine.
The Gazprom CEO said the company will not open a case against its Ukrainian counterpart Naftogaz at the Stockholm arbitration court until June 9. However, Ukraine has insisted it would file a lawsuit against Gazprom soon in the same court, unless the parties agree to a new gas payment system by Monday.
Today Ukraine's Naftogaz sent Gazprom a draft agreement that includes changes to the current contract and proposes new gas prices and volumes, according to an emailed statement from the company.
"If we do not agree, I think, in the coming days, a lawsuit will be filed in accordance with the procedures defined by the Stockholm Arbitration Rules," Ukrainian Justice Minister Pavel Petrenko said Monday, as quoted by RIA Novosti.
On Friday, Russian Energy Minister Aleksandr Novak said he believes that Gazprom has a stronger case than Naftogaz, citing the company's failure to comply with the take-or-pay contract obligations.
Ukraine insists the $485 per 1,000 cubic meters Gazprom charges for Russian gas is unfair and is a consequence of sour politics and not a reflection of market prices.Ukrainian Energy Minister Yuri Prodan said that the debt Kiev paid off was for supplies that were previously discounted at $268.50 during the first three months of 2014.
Ukraine's total outstanding debt to Russia has surpassed $3.5 billion, according to EU Energy Commissioner Gunther Oettinger.
You can share this story on social media: