Kiev offers to repay Gazprom gas debts 'in 10 days' if discount price granted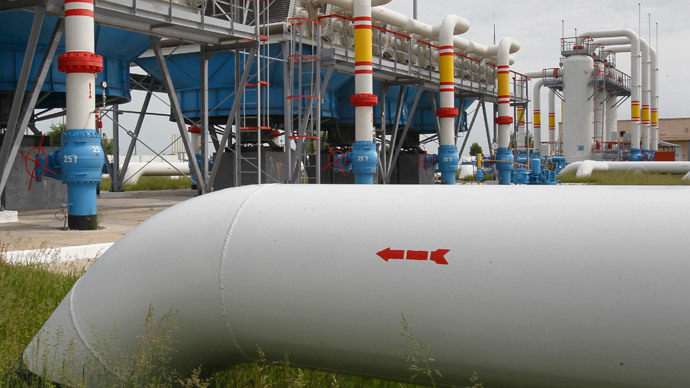 Ukraine will pay back its staggering debts for Russian gas in just 10 days' time – but only if Gazprom agrees to bring back the price agreed with ousted President Viktor Yanukovich for 2014, Ukraine's coup-imposed PM said in his EU address.
"The Ukrainian side offers OJSC Gazprom to sign an additional agreement, which sets the price for natural gas for the year 2014 to the amount of $268.5 per 1000 cubic meters, as was defined in the first quarter of 2014. After signing this agreement, Ukraine offers to settle the existing debts to the Russian side within 10 days," Arseny Yatsenyuk, said in a statement on Tuesday. The statement was addressed to the leaders of the European Commission and the European Union.

Earlier last week, Gazprom CEO Aleksey Miller said that Russian gas supplies to Ukraine will be cut off if Kiev fails to pay its gas bills by June 2. A preliminary pre-payment bill for June has also been issued by the company to Ukraine's Naftogaz. The Kiev government, which currently owes Gazprom an estimated of $3.5 billion, has refused to consider the bill.
Claiming that the Russian side refuses to settle the gas prices issue, Yatsenyuk said in the Tuesday statement that "the question of advanced payment cannot appear on the agenda."

Moreover, Kiev again threatened to sue Gazprom at the international arbitration court in Stockholm at the end of May if the situation does not improve.

Under the present terms, Kiev has to pay $485 per 1,000 cubic meters of gas. The price tag was raised in April from $268.50, after Russia withdrew all sorts of discounts for Ukraine. In April, Gazprom stopped the $100 discount enjoyed by Kiev under the Kharkov Agreement on leasing the Crimean port of Sevastopol to station the Black Sea Fleet, which is now part of Russia. Another discount, secured by President Yanukovich at talks in Moscow in December 2013, was cancelled by the Russian gas giant on the grounds that Ukraine stopped paying its bills.

The Russian government has repeatedly said that it is well aware of the fact that Kiev has the money to repay its gas debts, but has made no indications it is going to pay back even a fraction of the sum.

On May 7, Kiev received $3.2 billion from the International Monetary Fund (IMF), the first tranche of a $17 billion loan. On May 13, Ukrainian officials met with EU commission ministers and received assurances of 1.61 billion euros in macroeconomic loans for Ukraine to help with the current critical economic situation, with the first 100 million euro batch arriving on Monday. The US has also issued $1 billion in loan guarantees to Ukraine through its Agency for International Development (USAID).
You can share this story on social media: