Ukraine to pay debt to Russia after gas price agreed – Energy Minister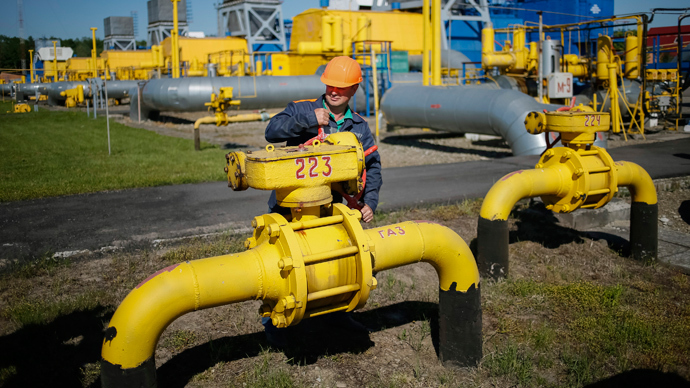 Kiev is to pay the debt for the Russian gas after the gas price is confirmed, the country's energy and coal industry minister Yury Prodan said as talks to avoid a new round of gas war kicked off in Brussels. The stance might bring the talks to a dead end.
Russia's Ministry of Energy, in its turn, said it was ready to negotiate the gas price and the canceling of advanced payment scheme for Ukraine - if Kiev agrees to pay $1,454 billion, the undisputed part of its debt.
Gazprom says Ukraine owes it $4.46 billion in unpaid bills and is running up more debt at a rate of more than $1 billion per month. Kiev says its debt for 2013 and 2014 as of April 1 stood at $2.2 billion. It paid $786 million last week which covered the gas supplied in the first quarter of this year.
Russia's Gazprom expects to receive $1 billion from Ukraine on Tuesday as payment of gas debts and advance payment for gas supplies. But as long as the Ukrainian banks' work is disrupted, Moscow may suffice with Kiev's guarantee of payment.
Earlier, the European Energy Commissioner Günther Oettinger said that a fair gas price would be $350-380 for a thousand cubic meters.
The previous trilateral talks a fortnight ago led to a compromise deal under which the Ukrainian Naftogaz should pay $2 billion to Gazprom, and another $500 million no later than June 7.
Previously, the coup-appointed premier Arseniy Yatsenyuk said that Ukraine wants Gazprom to sign an additional agreement that would set the price of gas at $268.5 dollars per 1,000 cubic meters as was established in the first quarter of 2014. If the two sides were to sign such a deal, Kiev would repay the whole of its gas debt to Russia within ten days, he added.
Ukraine will never pay for Russian gas at a price of almost $500 per 1,000 cubic meters, Yatsenyuk added.
However, Russia's energy minister, Aleksandr Novak, said that Ukraine had failed to fulfil its obligations from May 26 to repay its gas debt to Russia.
You can share this story on social media: