'Double-headed eagle looks in both directions': Russia has enough gas for both East and West - PM Medvedev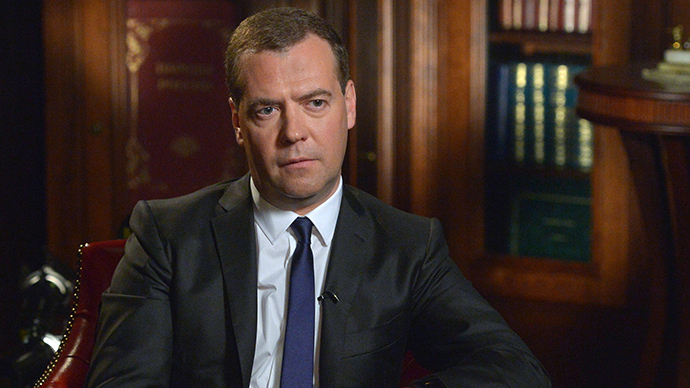 As Moscow and Beijing finalize a historic deal that may be worth some $456 billion in Russian gas over the next 30 years, Russia keeps looking both East and West, and is not forgetting about its European customers, PM Dmitry Medvedev told Bloomberg TV.
"These were not the easiest talks," Medvedev said. He assured the public that the wording of the agreement "will be finalized very soon," in time to be signed during Russian President Vladimir Putin's state visit to China.
"One side always wants to sell for a higher price, while the other wants to buy for a lower price," Medvedev said. "I believe that in the long run the price will be fair and totally comparable to the price of European supplies."
Moscow is actively pursuing two routes of developing its supply lines – the Eastern route and the Western route, the Russian PM said, emphasizing that China is a very important trade partner.
"We cannot supply our gas to the European market alone, because we have enough for the Asian market too, which is the most rapidly developing market, including China, the largest economy."
Medvedev said that Russia's move to increase energy cooperation with China is in no way tied to EU threats to diversify its gas supply and move away from the bloc's energy dependency on Russia.
"First, each country or group of countries, including the European Union, has the right to diversify their supply sources. This is true. But we don't attach much importance to this simply because, so far, there is no viable alternative in sight to Russian supplies," Medvedev said.
Russia, as a "major energy-supplying power" will use the opportunity to deliver gas not only to Europe, but also to Asia. "I wouldn't look for politics behind this, but I have no doubt that supplying energy to the Asia Pacific Region holds out a great promise in future."
Yet at the same time, Medvedev said that in the worst case scenario, gas that would not be sold to Europe may go to Asia.
"But even if we look at the worst prospect – purely theoretically – any undelivered European gas supplies can be sent to China by the eastern route. But that, let me stress this point again, is so far an absolutely theoretical possibility."
Medvedev also urged the West not to politicize Russia's desire to develop cooperation with Asia, saying that Moscow wants to trade with both West and the East, recalling that the eagle on the Russian coat of arms looks in both directions.
"The idea of any politically motivated scenario is simply conjecture. The fact is, we want to trade in both the west and the east. Do you remember what the Russian coat of arms looks like? The eagle is looking in both directions," Medvedev said.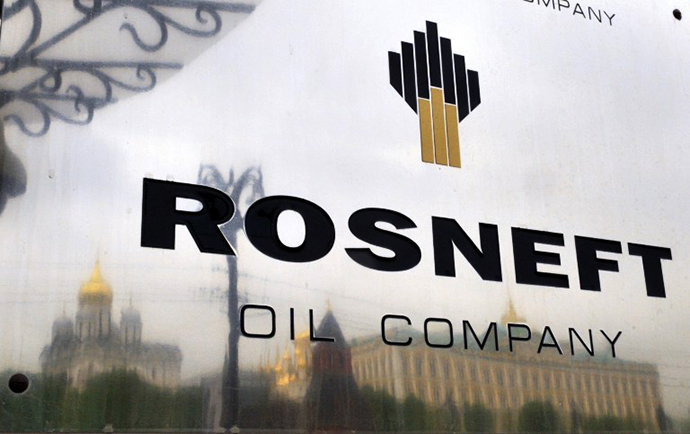 As for the possibility of Russian oil giant Rosneft selling a 19.5 percent stake minus one share to Chinese companies, Medvedev says it is up to the company to decide.
"We are trying to make our energy market stable. Eventually, Rosneft should decide for itself what development sources to use. If Chinese investors make an interesting proposal, we don't rule anything out. In any case, the government is planning a privatization of a considerable amount of Rosneft stock."
When answering the question of the possibility of opening Russian markets to foreign investment, Medvedev said that the authorities are always trying to analyze the impact of the opening of certain sectors, and that there are special commissions that deal with it.
"I think we have the right to keep some sectors under government control, but the number of such sectors keeps decreasing, and the commission I have mentioned takes decisions to expand the opportunities for foreign investment at almost every meeting."
Russian President Vladimir Putin visits Shanghai on May 20-21. Gazprom and the China National Petroleum Corporation (CNPC) are due to sign a historic deal for 38 billion cubic meters of natural gas to power China's growing economy, starting in 2018.
Ahead of his visit, Putin, in an interview to Chinese media outlets, said that the two states "steadily move towards the establishment of a strategic energy alliance."
You can share this story on social media: